| | |
| --- | --- |
| SCHWEIZ / SUISSE / SVIZZERA / SVIZRA | SWITZERLAND |
| Waadt / Vaud / Vaud / Vad | |
map →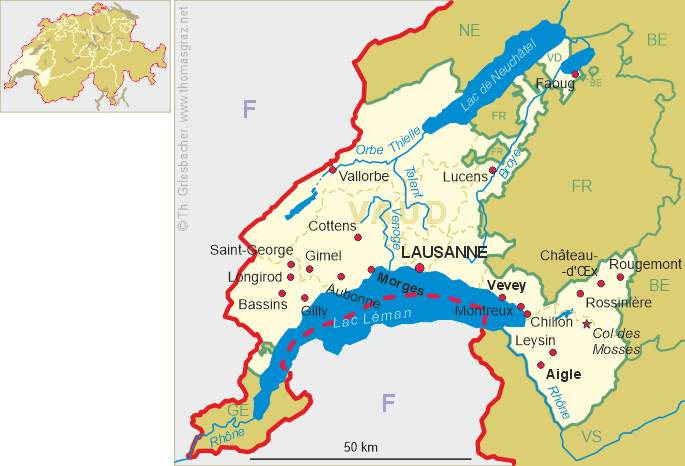 Lucens
• uk: Люсан
Lucens is situated at an elevation of 498 m in the valley of the river Broye on the Cerjaule stream, about 15 km southwest of the district town Payerne in the Swiss canton of Vaud. The municipality has a population of about 4,400 (2022).
The oldest known written document that mentions villa Losingus dates from the year 963. Since the 10th century it belonged to the bishops of Lausanne. It was only when the bishops relocated their local residence from nearby Curtilles to Lucens that the importance of this place increased. From then on, Lucens was the summer residence of the bishops of Lausanne. The castle was set on fire by the Confederates in 1476 during the Burgundian Wars, but was later rebuilt. Lucens was one of the last places in Vaud to be conquered by Bern in 1536. At first the village came under the administration of the bailiwick of Moudon, but in 1542 the seat of the bailiff was moved to Lucens. After the collapse of the Ancien Régime, Lucens belonged to the canton of Léman from 1798 to 1803 during the Helvetic period, which was then merged into the canton of Vaud with the Act of Mediation of 1803. In 1798 it had been assigned to the district Moudon and lost its position as an administrative center. A new economic boom only occurred after 1850 with industrialization and the founding of a gemstone cutting factory in 1862.

Lucens castle [left, no. 0000] is certainly the most prominent landmark of the town. The castle's strategic location allowed it to control the Broye valley, which was an important transit corridor. Starting in the Middle Ages and until 1536 it was a residence of the Bishop of Lausanne and served to control the Bishop's land in the Broye valley. During the 12th century, the castle was repeatedly destroyed and rebuilt. In 1476, it was destroyed by the Swiss Confederation. In 1536 the valley and the surrounding territory were conquered by Bern. It became the seat of a Bernese bailiwick at the same time. In 1542, the bailiff of Moudon moved into the castle. It was enlarged between 1579–1586 and served as an arsenal and fortress on the border to Fribourg. In 1798, the Bernese were forced out and the Canton of Léman was formed. The castle became the property of the canton in 1798, but was sold by the canton in 1803 and has changed hands several times since then. The most famous owner was certainly Adrian Conan Doyle, the son of the writer Sir Arthur Conan Doyle . On his initiative, the Sherlock Holmes Museum was set up in the castle in 1965. After the death of Adrian Conan Doyle (1970), the castle changed hands again. Today (2005) it is no longer open to the public. The Sherlock Holmes Museum was moved to the Maison Rouge in the village.

[https://de.wikipedia.org/wiki/Lucens]

---