| | |
| --- | --- |
| ČESKÁ REPUBLIKA | CZECH REPUBLIC |
| Středočeský kraj | Central Bohemia region |
| Okres: Benešov | |
map →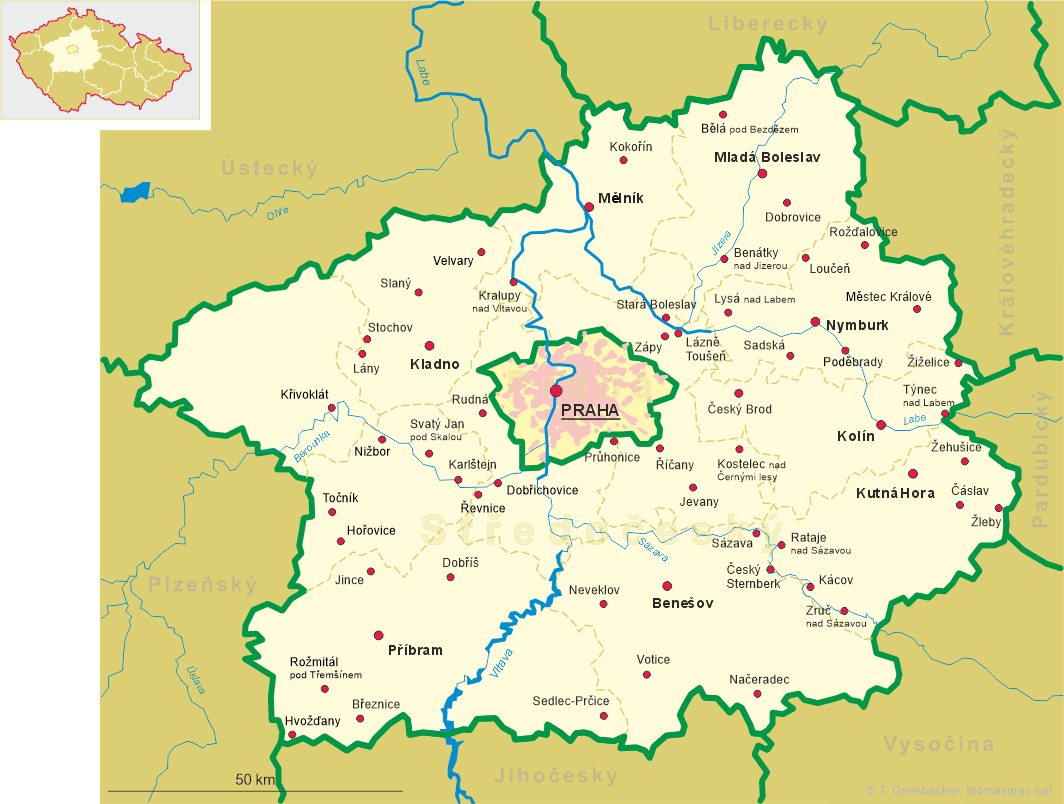 Neveklov
• lv: Neveklova
• lt: Neveklovas
• de: Neweklau
• bg, ru, sr, uk: Невеклов
Neveklov is situated at an elevation of 413 m about 11 km southeast of the district town Benešov in the Central Bohemia region (Středočeský kraj). The municipality has a population of about 2,700 (2021) and besides Neveklov proper consists of the localities Ortsteilen Belice (Bieleitz), Blažim (Blaschim), Borovka (Borowka), Dalešice (Daleschitz), Doloplazy (Doloplas), Dubovka (Dubowka), Hůrka Kapinos (Hurka Kapinos), Chvojínek (Klein Chwojen), Jablonná (Jablonna), Kožlí (Koschli), Lipka, Mlékovice (Mlekowitz), Nebřich (Nebschich), Neštětice (Neschtietitz), Ouštice (Auschtitz), Přibyšice (Pribischitz), Radslavice (Radslawitz), Spolí (Spoli), Tloskov (Tloskau), Z´dolí (Sadol) and Z&aacute,rybnice (Saribnitz).
The oldest known written mention of Neveklov dates from 1285 when the lords of Rosenberg (Rožmberk nad Vltavou) sold the village to the monastery of Zderaz (today in Prague). Later, the ownership changed into the hands of secular owners. Since 1550 Neveklov was part of the Tloskov domains. In 1563 it was elevated to a market town. The Jewish community of Neveklov founded a burial fraternity; the Jewish cemetery was created in 1689. After the end of patrimonialism, Neveklov in 1848 became an independent municipality and the seat of a district court. During the period of the German occupation, Neveklov and further 71 villages in 1942 were evacuated for the establishment of the Beneschau military training area, which in 1943 was renamed SS-Truppenübungsplatz (training area) Böhmen (Bohemia). After the end of World War II, the town was rebuilt. Since 2006 Neveklov has the status of a town.
The

church of St. Gall (kostel svatého Havla) was founded in the 13th century. In the second half of the 17th century it was rebuilt in Baroque style. After a fire in 1790, the tower was reconstructed.

[https://de.wikipedia.org/wiki/Neveklov]

---