| | |
| --- | --- |
| SCHWEIZ / SUISSE / SVIZZERA / SVIZRA | SWITZERLAND |
| Waadt / Vaud / Vaud / Vad | |
map →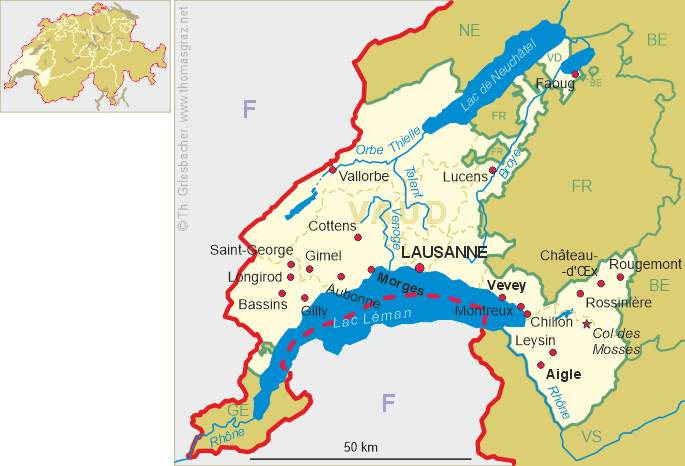 Rossinière
• alt.: Rossinières
• de: Russeneire
• uk: Росіньєр
Rossinière is situated at an elevation of 920 m in the District de la Riviera-Pays-d'Enhaut of canton Vaud, about 14 km northeast of Montreux, about 19 km east of the districts capital, Vevey, and about 35 km southeast of the cantons capital, Lausanne. As of 31 December 2022, the municipality has a population of 532.
La Ransonery was mentioned in 1155; the former German name, Russeneire, is no longer used. At its beginnings the village together with Château-d'Œx formed a bailiwick of the counts of Gruyères (Greyerz). When the county was dissolved in 1555, Rossinière became part of territory of Bern (district Saanen). In 1803 it became part of the newly formed canton Vaud. The Grand Chalet, built between 1752–1756, is one of the most powerful castles in Switzerland.
The Protestant

parish church [left, no. 0000] was built in 1316 as the chapel of St. Marie-Madeleine, a filial church of Château-d'Œx. The chapel was enlarged in 1645. The church was renovated in 1910–1912 and 1971–1975.
The mountain depicted in the background is the

Dent de Corjon (1,967 m), located west of Rossinière in the Swiss Alps. It is the culminating point of the small range lying between the valley of L'Hongrin and the Sarine, north of the Lac de l'Hongrin.

[https://de.wikipedia.org/wiki/Rossini%C3%A8re; https://hls-dhs-dss.ch/ghh/index.php?ghhterm=Rossini%E8re; https://en.wikipedia.org/wiki/Dent_de_Corjon]

---