| | |
| --- | --- |
| SCHWEIZ / SUISSE / SVIZZERA / SVIZRA | SWITZERLAND |
| Bern / Berne / Berna / Berna | |
map →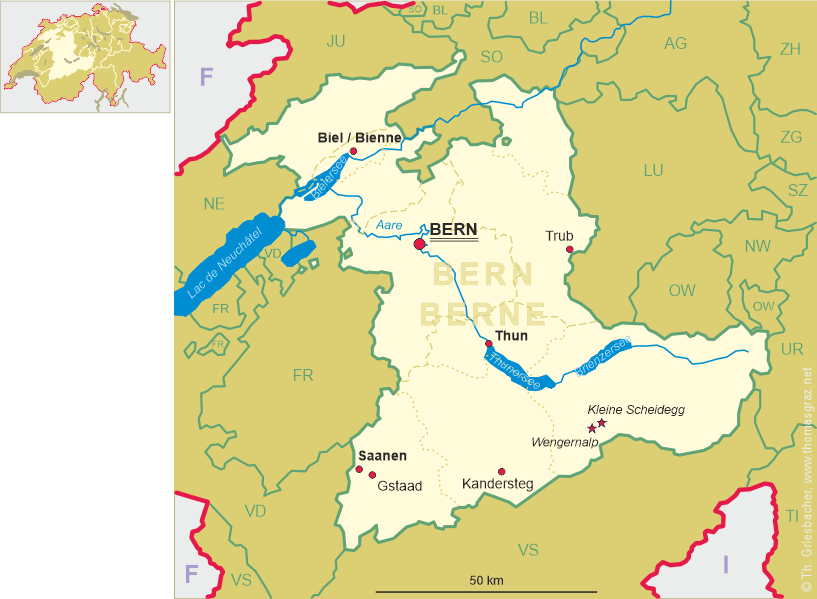 Trub
• de: Trub
• ru, uk: Труб

Trub is situated at an elevation of 1,030 m in the upper Emmen valley on the Trueb stream, about 7 km east of Langnau im Emmental, the administrative centre of the district Emmental, and about 33 km east of the canton's capital, Bern. The municipality has a population of aout 1,300 (2022).
Truoba was first mentioned in 1139, Trouba around 1258. Much of the early history of Trub is tied to the Benedictine abbey of Trub, founded in about 1125, which ruled over much of the modern municipality. In 1528, Bern adopted the new faith of the Protestant Reformation and secularised all monasteries, including Trub. The land and lower courts in Trub came under the control of Bern. In 1798 Trub became part of the Helvetic Republic and was located in the district of Oberemmental. Following the collapse of the Republic and the Act of Mediation of 1803, it was transferred to the Oberamt Signau. In the 16th century dairy and cheese production became a major part of the local economy. The construction of various valley roads between 1832 and 1860 as well as the construction of a train station of the Bern–Luzern Railroad in Trubschachen in 1875 helped open up the village to industry. The economy shifted from agriculture to processing wood, building automotive parts, transporting goods and the services industry.
The

village church [left, no. 0000: far right] goes back to the old monastery church, which always had served the local congregation. It was converted to a Protestant church in the Reformation period and the patronage rights passed to Bern. The original church was probably a Romanesque building. It was replaced with the current building in 1641–1645, although some of the walls come from the earlier building.

[https://de.wikipedia.org/wiki/Trub, https://en.wikipedia.org/wiki/Trub; https://de.wikipedia.org/wiki/Kloster_Trub; http://www.fallingrain.com/world/SZ/05/Trub.html]

---