| | |
| --- | --- |
| ÖSTERREICH | AUSTRIA |
| Bundesland: Steiermark | Styria |
| Bezirk: Leoben | |
map →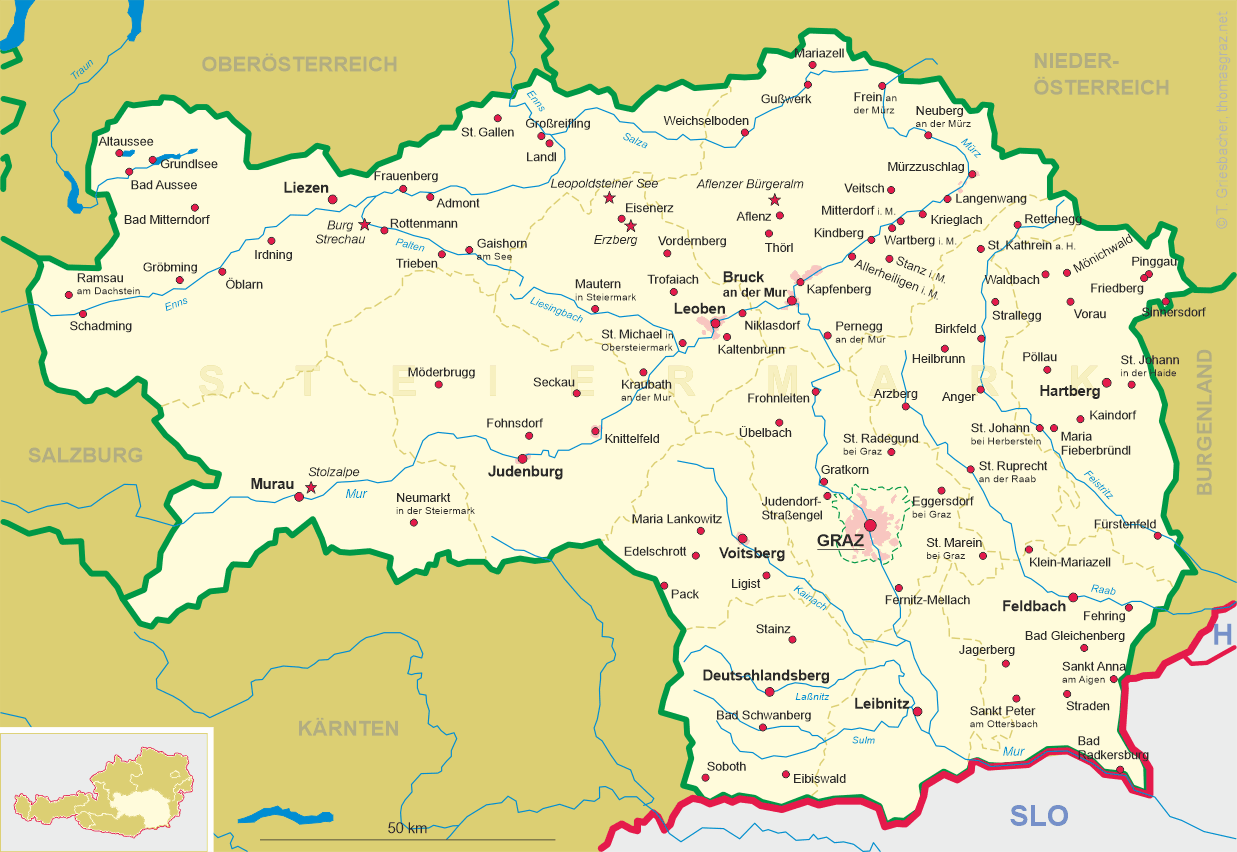 Eisenerz
• lt: Eizenercas
• uk: Айзенерц
• ru: Айзенэрц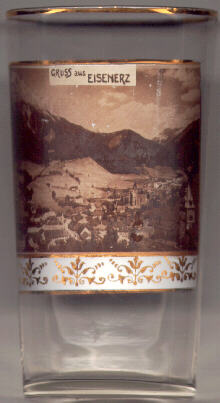 Eisenerz, situated at an elevation of 730 m amidst the mountains Pfaffenstein (1,871 m), Kaiserschild (2,084 m) and Erzberg (1,466 m), has a history of iron mining and iron smelting that goes back for centuries. The wealth of the town always was based on the iron mined at the nearby Erzberg. Iron smelted in Eisenerz was then transported along the so-called Eisenstraße (Iron Road) to Steyr in Upper Austria. The name Eisenerz (literally 'iron ore') first appeared in a document of 1294 (Eysenärtz), but the older name Innerberg also remained in use officially until the 18th century. In recent years tourism has become more and more important for the town, especially since (underground) mining on the Erzberg was stopped.
The

parish church Sankt Oswald [center right] was first mentioned in a document of 1282. The present church dates from the late 15th and early 16th century. Additions of the Baroque era were removed during the renovation of 1890–1899. In the times of the Turkish invasions the church was fortified: the earliest parts date from 1482, while most parts of the fortification date from 1532–1534. St. Oswald is the largest fortified church in Styria.
The mountains identified on glass no. 2732 [left] are the

Polster [background centre] (1,910 m) and the

Griesmauer [far background left] (2,034 m). The mountain depicted in the background of the picture on glass no. 3236 [below] is the

Pfaffenstein (1,871 m).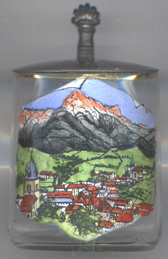 Another glass of this collection shows
Železná Ruda
(Czech Republic), the name of which literally also means 'iron ore'.
---