| | |
| --- | --- |
| ČESKÁ REPUBLIKA | CZECH REPUBLIC |
| Zlínský kraj | Zlín region |
| Okres: Kroměříž | |
map →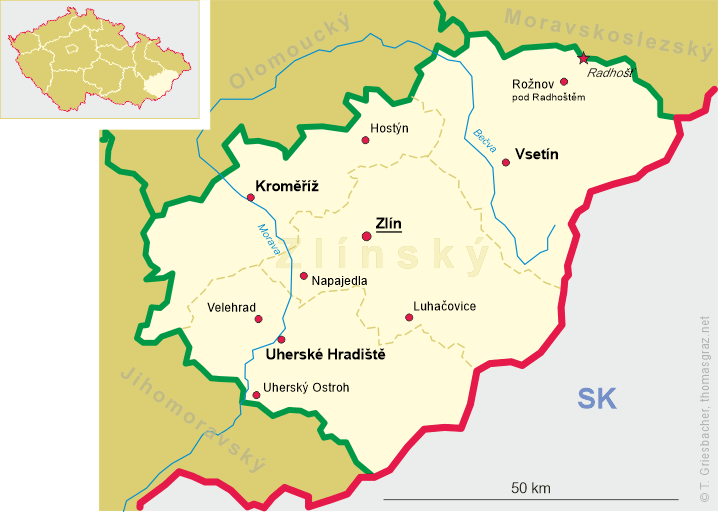 Hostýn
• alt: Svatý Hostýn
• de: Hostein, Heiliger Hostein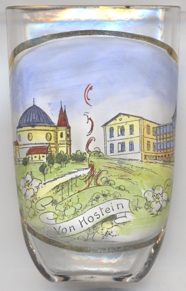 Hostýn or Svatý Hostýn (735 m) is a hill in the Hostýnské hills. It is a mjor Marian pilgrimage site. The complex includes the Basilica of the Assumption of the Virgin Mary, hostels for pilgrims and a lookout tower. The earliest mentioning of Hostýn hill as a pilgrimage site dates back to 1625.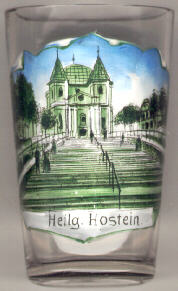 The

pilgrimage church Svatý Hostýn on top of the Hostýn hill (735 m) was built 1721–1748 in Baroque-Neoromanesque style in place of an older church. The new church was destroyed by a fire in 1769 but was rebuilt two years later. Emperor Joseph II ordered its closure, but it was restored completely in 1845 under Emperor Ferdinand I of Austria. the pilgrimage church received the title of a Basilica minor in 1982.
(see also list of other basilicae minores depicted on glasses of this collection)
Glass no. 3933 [near left] is labeled

Korunovaná Rodička Boží, i.e. 'Crowned Mother of God'. The statue of Our Lady of Hostýn was crowned by a golden crown blessed in Rome by Pope Pius X in 1912. It is therefore likely that this glass was produced as a souvenir to commemorate this event. Within ten days the number of pilgrims to Hostýn was estimated to be 200,000.

[https://en.wikipedia.org/wiki/Host%C3%BDn]

---