| | |
| --- | --- |
| ÖSTERREICH | AUSTRIA |
| Bundesland: Kärnten | Carinthia |
| Bezirk: Klagenfurt-Land | |
map →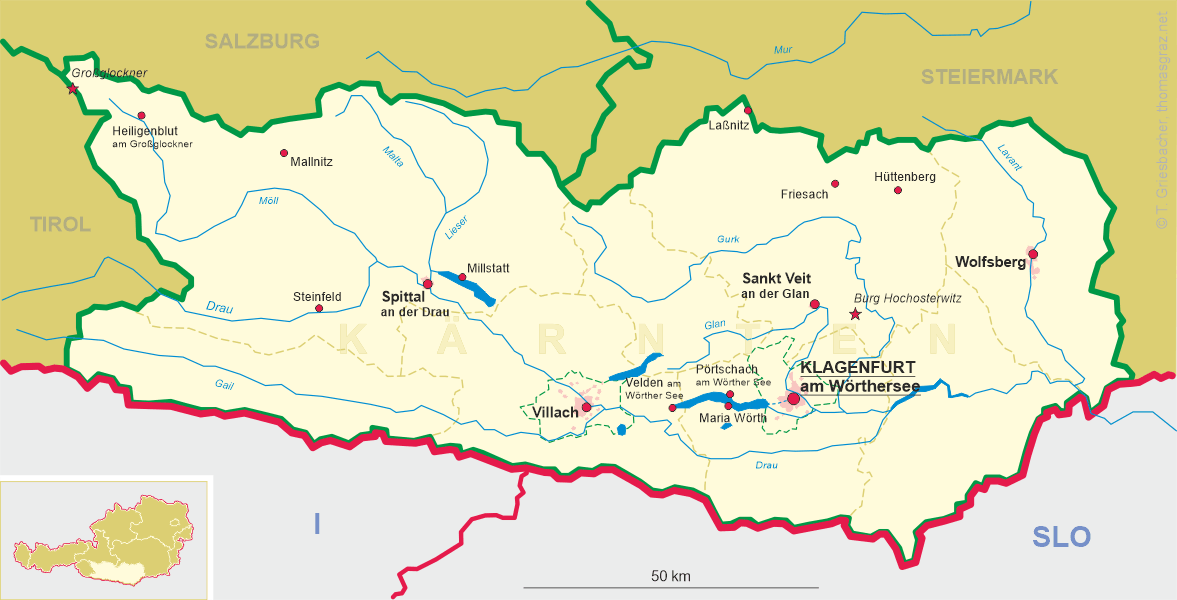 Maria Wörth
• lt: Marija Vertas
• sl: Otok
• ru: Мариа-Вёст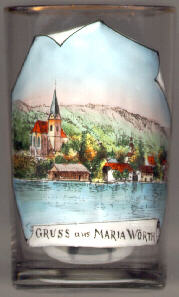 The

pilgrimage and parish church of Maria Wörth, built on a small island on the South bank of the lake Wörthersee, dates back to the end of the 9th century (AD 875) and is the oldest parish in Carinthia. Shortly after that, the relics of two martyrs, Primus and Felician, were brought to the church from Rome and were entombed in the crypt of the church, which furthered the popularity of Maria Wörth as a pilgrimage site. The monastery of Maria Wörth was founded between 1146. and 1150. The South gate and the crypt of the Romanesque church of the 12th century were incorporated into the new Gothic church that was completed in 1540. The Baroque main altar (1658) holds the statue of Our Lady (around 1460), one of the most important Gothic wooden sculptures in Carinthia.
The so-called

winter church (or Church of the Rosary or Lady Church) [depicted on glass no. 087, left, to the left of the parish church] dates from the 12th century. The Romanesque frescos in the choir of the church, also dating from the 12th century, are among the most important examples of early medieval paintings in Austria. It is thought that this smaller church was consecrated in 1155. Some believe that this church may have been the original pilgrimage site.
Both churches were acquired by the Knights of the Order of St. George in 1500, who were followed by the Jesuits in 1598. When the Jesuit order was dissolved in 1773, the churches became a parish, which came in possession of the monastery of St. Paul im Lavanttal in 1809. During the 18th century the gap between the island and the shore of the lake slowly filled itself when the water level of the lake receded. Since then the former island is a peninsula.

---