| | |
| --- | --- |
| DEUTSCHLAND | GERMANY |
| Bundesland: Brandenburg | |
| Stadt: Brandenburg an der Havel | |
map →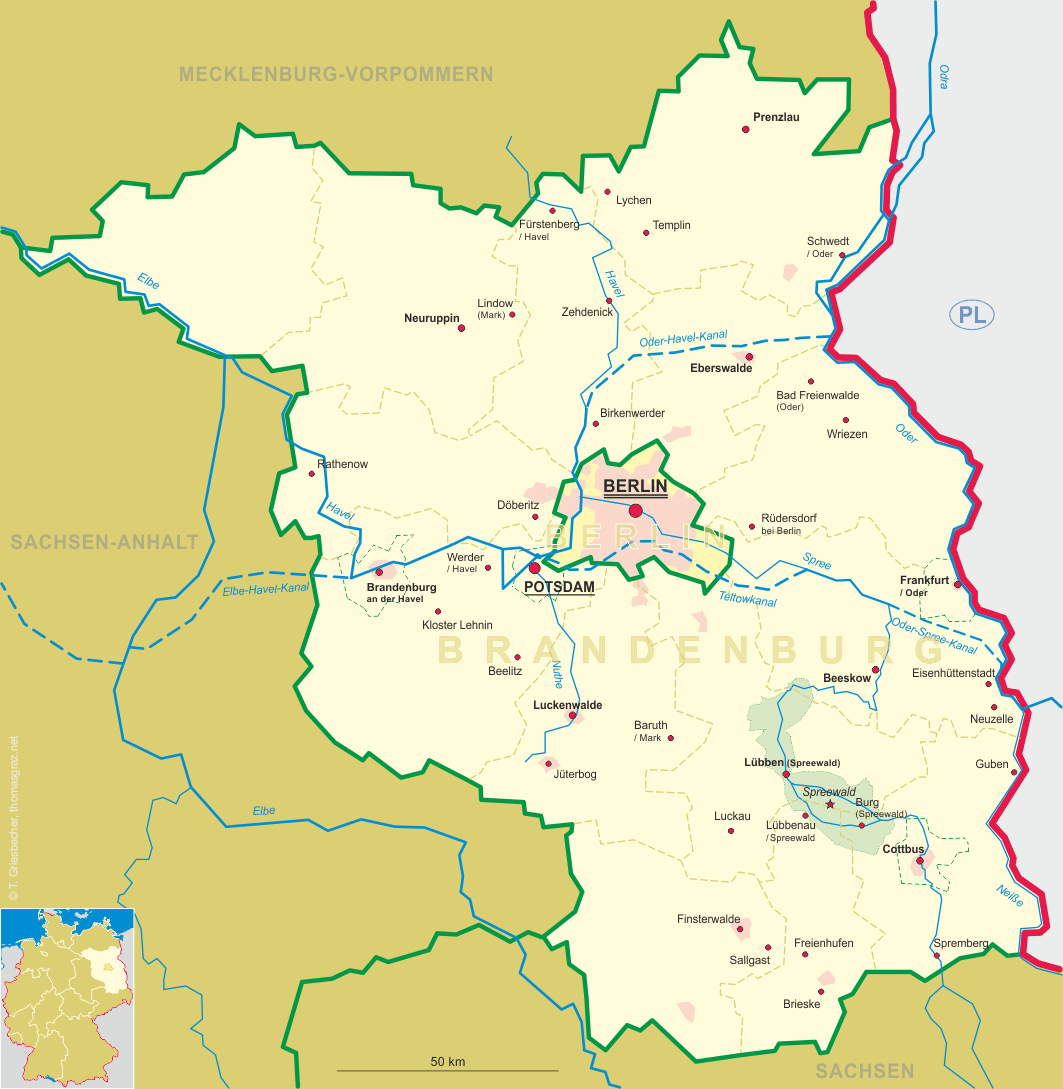 Brandenburg an der Havel
• fr: Brandebourg-sur-la-Havel
• fr: Brandeburgo sulla Havel
• lb: Brandenburg un der Havel
• lv: Brandenburga pie Hāfeles
• lt: Brandenburgas prie Havelo
• cs: Braniboř
• pl: Branibór, Branibórz
• es: Ciudad de Brandeburgo
• el: Βρανδεμβούργο αν ντερ Χάβελ
• mk: Бранденбург на Хафел
• ru: Бранденбург-на-Хафеле
• sr: Бранденбург на Хафелу
• uk: Бранденбург-на-Хафелі
• be: Брандэнбург-на-Гафэле, Брандэнбург-на-Гафэлі
Brandenburg an der Havel is situated on both banks of the river Havel. It was founded as Branibor (Brennabor, Brennaburg) by the West Slavic Hevelli tribe who settled here around AD 500. The Slavic castle, located on an island in the river, was captured by the German King Heinrich I (der Vogler, 'the Fowler') in the winter of 928/929. His successor, King (later Emperor) Otto I (der Große, 'the Great'), established the bishopric of Brandenburg in 948. In 983, Brandenburg was retaken by the Slavs. When their last prince died without heir in 1150, the Ascanian prince Albrecht der Bär ('the Bear') inherited Brandenburg and took the titel of Margrave of Brandenburg. Soon after that, two towns began to develop on the two banks of the river. The 'old town (Altstadt) Brandenburg' on the left bank was first mentioned in 1170, the 'new town (Neustadt) Brandenburg' on the right bank was mentioned in 1196. Both towns joined the Hanse federation of trading towns in 1314/1315. Elector Joachim I chose Brandenburg as his residence in 1521. Both towns remained independent until 1715, when they were joined under the reign of Friedrich Wilhelm I, King in Prussia. The industrialisation began around 1820 (cloth making industry). The railway line from Berlin via Brandenburg to Magdeburg was opened in 1846. Metal working industry began around 1874. Brandenburg was heavily damaged during World War II. Since the reunification of Germany in 1990 the town has been restored.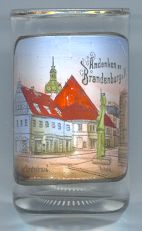 The

Roland [left, no. 1041: foreground right], a medieval sign of the jurisdiction, dates from 1474. The 5.35 m high statue was moved to the square in front of the town hall of Neustadt Brandenburg in 1716. During World War II it was moved to a secure place in 1941. After the war, it found its current place in front of the former town hall of Altstadt Brandenburg in 1946. The town hall of Neustadt Brandenburg and the

Kurfürstenhaus [left, no. 1041: background], dating from the Renaissance period, were destroyed in 1945.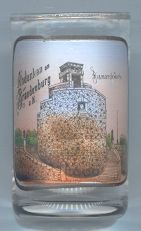 The

Bismarckwarte [left, no. 1043] was erected in 1905–1908 in honour of Reichskanzler Otto von Bismarck (1815–1898), the founder of the German Empire 1870/71. The tower was renamed 'Friedenswarte' ('peace look-out') in 1958. It was blown up in 1974 and was replaced by a concrete and steel construction.
Several glasses of this collection show other Bismarck monuments.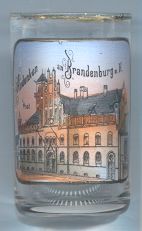 The building of the

post office [left, no. 1042] in the St.-Annen-Straße was built in 1893/1894. It was destroyed in 1945.


The

Saldernsches Realgymnasium [left, no. 2903: left] was originally founded in 1589, when Gertrud von Saldern, widow of Oberkämmerer (head chamberain inthe Electorate of Brandenburg) Matthias von Saldern, donated building to the city of Brandenburg for the purpose of founding a school and supporting the Protestant faith. The building depicted on glass no. 2903 was built in 1867 at the Salzhof near the river Havel. Names of the school were, among others, Realschule (1852), Realgynasium 1882, Städtischen von Saldernschen Reformrealgymnasium mit Realschule (1925/26). The building was destroyed on 31 March 1945. Since 1993 the school is known as von Saldern-Gymnasium.
[http://www.salderngym.de/vsg_v2/unsere-schule/historie/stiftung-gertrud-von-saldern-seite-1-von-3]
The

Johanniskirche [left, no. 2903: right] goes back to a church that was built in 1240 on this site for the Franciscan convent that had been transferred in 1237 to Brandenburg an der Havel from its original location in Ziesow. Construction of the church depicted on glass no. 2903 began in 1411. The tower on the south side between nave and chancel was built in 1460–1469. The Franciscan monastery was dissolved during the Reformation under Elector Joachim II. Since 1544 the monastery buildings were used by the city of Brandenburg as a hospital; however the members of the former convent retained the right to live there for their lifetime. In 1570, the former monastery finally passed into full possession of the city. In the 19th century, the buildings were used by a brewery, but the convent buildings were finally torn down in 1865. The western part of the church was destroyed during an Allied air raid in 1945. The roof above the choir collapsed in 1985; since then, the remainders of the church are protected by a provisional roof.
[https://de.wikipedia.org/wiki/St._Johannis_(Brandenburg_an_der_Havel)]

---