| | |
| --- | --- |
| SLOVENSKO | SLOVAKIA |
| Trnavský kraj | Trnava region |
| okres: Piešťany | |
map →
Piešťany
• lv: Pieštani
• pl: Pieszczany
• de: Pistyan
• hu: Pöstyén, Pöstyény
• ru: Пьештяны
• be: П'ешцяны
• uk: П'єштяни
• bg: Пиещяни
• mk, sr: Пјештјани
Piešťany, one of the oldest spa towns in Central Europe, is situated at an elevation of 157 m on the river Váh (Hungarian: Vág, German: Waag) in western Slovakia. The earliest traces of human settlements date back to prehistoric times, about 80,000 years ago. A small statue of a female figure, cut from a mammoth tooth and called the 'Venus of Moravany' is estimated to be about 22,800 years old. It is also likely that the Romans already knew about the thermal waters at this site.
The first document mentioning Piešťany dates from 1113, the first written accounts of the springs also date from the 12th century. The healing properties of the waters were first described in the book "De admirandis Hungariae aquis hypomnemation", published in 1549. The thermal, sulfur-containing waters come from a depth of about 2,000 m and have a temperature of 67–69°C and a mineral content of about 1,500 mg per litre. Thermal mineral water rising through the bed of the river Váh produces mud that is also used for therapeutic purposes, especially for the treatment of rheumatic and neurological diseases. The modern development of the place to a spa town was initiated in 1789 under the ownership of the Erdödy counts. The first kurhaus (the 'old' or 'Napoleonic Bath'), built by the Erdödys in 1822, still exists today. The world-wide reputation of the spa began when the Winter family rented the spa in 1889.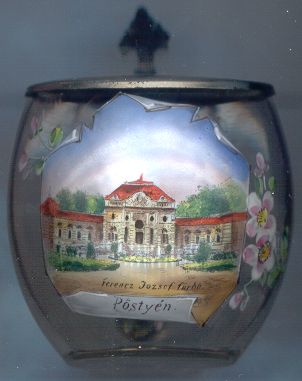 Glass no. 2031 [left] shows a view of the

Franz Josef bath (the glass is labeled in Hungarian: Ferencz József fürdő), named for the Austrian Emperor and King of Hungary, Franz Josef I. The bath was built in 1889.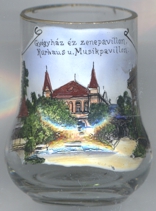 Glass no. 3027 [near left] shows the

spa house and music pavilion.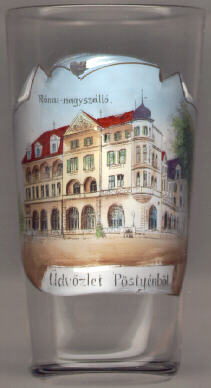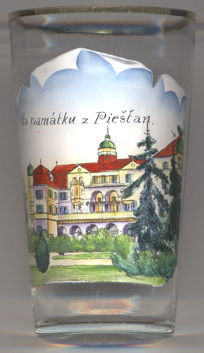 The former

Royal Grand Hotel [left, nos. 337 and 3109] was built in 1906 by Adolf Rónai, coffee-house owner from Budapest, according to plans by the Austrian architect Adolf Oberländer. When opened in 107, the hotel was called Grand Hotel Rónai / Rónai Nagyszálló and after a change in ownership was renamed Royal Grand Hotel. During the communist period the hotel was named Hotel Slovan. During the first decades of the 20th cenntury, it was one of the most luxurious hotels of Piešťany. [https://sk.wikipedia.org/wiki/Grand_Hotel_Royal]


The

Hotel Thermia Palace [left] was built in Secessionist style in 1912 and still is one of the centres of the spa.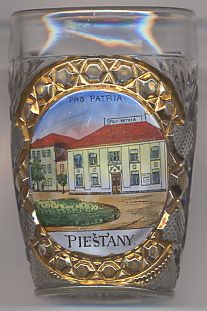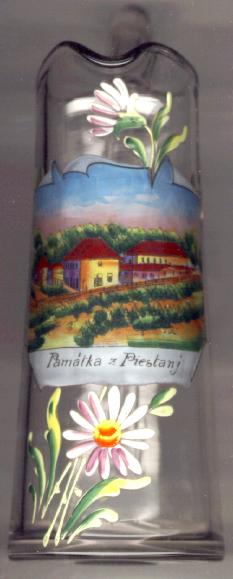 Glasses no. 2155 [left] and no. 497 [right] shows the

Hotel Pro Patria which opened in 1916 and originally served as a sanatorium for soldiers during the World War I.

---