| | |
| --- | --- |
| ČESKÁ REPUBLIKA | CZECH REPUBLIC |
| Královéhradecký kraj | Hradec Králové region |
| Okres: Náchod | |
map →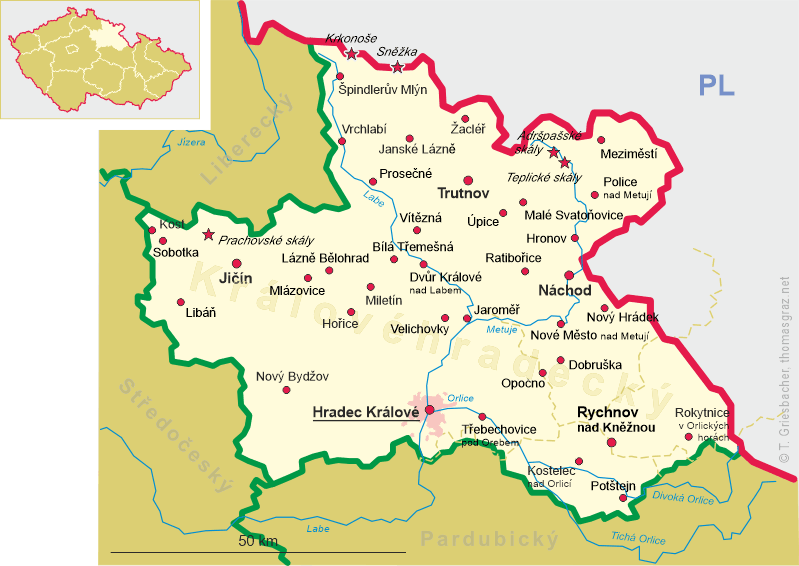 Adršpašské skály
• de: Adersbacher Felsen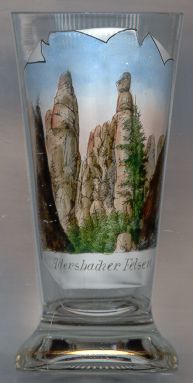 The Adršpach Rocks near Dolní Adršpach and Horní Adršpach are one of the most beautiful rock formations in the Czech Republic. Together with the Teplice Rocks (Teplické skály), located about 5 km to the southeast, they are also refered to as Adršpašsko-teplické skály. The picturesque sandstone rocks cover an area of 17.7 square km.
The oldest known depiction, an engraving by Bohumir Langhans, dates from 1723. The famous German poet and naturist, Johann Wolfgang von Goethe, described the rocks in detail after his visit in 1782. In times of war, the steep gorges and 'rock towns' also served as a refuge for the local villagers: year-dates carved in the rocks remember the Second Silesian War (1745) and the Seven Years' War (1757 and 1762). King Friedrich II (the Great) of Prussia once said that "who did not see the Adersbach Rocks, the Princely Chapel in Grüssau [Krzeszów, district of Kamienna Góra, PL] or the Charnel House in Sedletz [Sedlec, today part of Kutná Hora, CZ], did not see any beauties of nature, splendour or art." The oldest map mentioning the Adršpach Rocks was published in 1789 and referred to the Bavarian War of Succession (also known as the 'Potato War') between Prussia and Austria in 1779.
Many of the rock formation bear imaginative names:
The formation depicted on glass no. 3147 [left] is labeled (in German)

Zuckerfabrik (sugar refinery).
The rock formation shown on glass no. 1268 [right] is known as

Mayor and his wife.

---