| | |
| --- | --- |
| DEUTSCHLAND | GERMANY |
| Bundesland: Freistaat Thüringen | Thuringia |
| Landkreis: Saalfeld-Rudolstadt | |
map →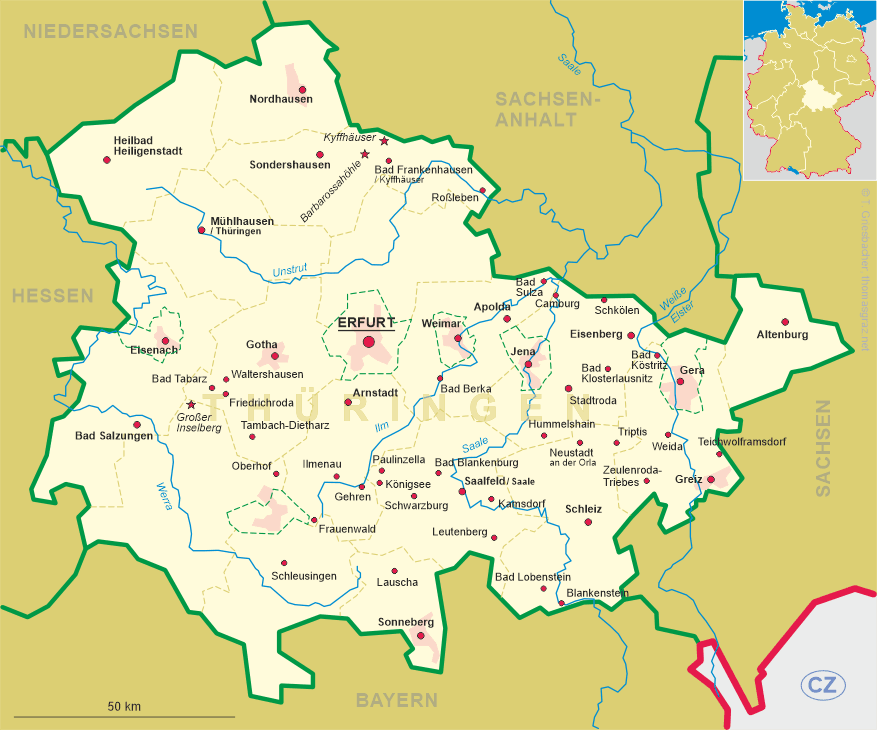 Bad Blankenburg
• ru: Бад-Бланкенбург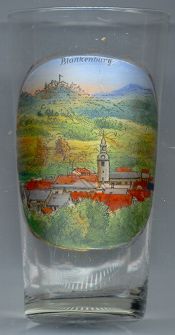 Bad Blankenburg is situated at an elevation of 220 m at the exit of the Schwarza valley into the Saale valley at the northern edge of the Thüringer Schiefergebirge (Thuringian slate mountains) region. Blankenburg was first mentioned in 1267, and had obtained the status of a town by 1323. The town had to be rebuilt almost completely after a large fire in 1744. The tradition of Blankenburg as a spa town began in 1840, when a spa for cold-water cures was founded. In the same year, the pedagogue Friedrich Fröbel founded the world's first kindergarten in Blankenburg. The predicate 'Bad' was awarded to the town in 1911 by Prince Günther of Schwarzburg-Rudolstadt as an official recognition as a spa. A mineral spring and a thermal spring were found in 1995. Since 1997, Bad Blankenburg cooperates with the towns of Saalfeld and Rudolstadt in the municipal union "Städteverband am Saalebogen".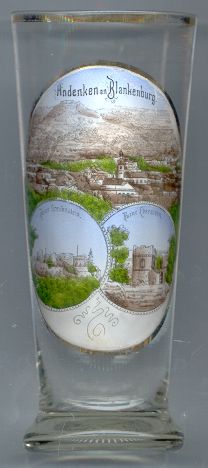 The

Stadtkirche Unser Lieben Frauen (town church of Our Lady) [right, no. 1447: centre] was originally built around 1385. After the fire of 1744 it was rebuilt in 1749.
The name of Bad Blankenburg is derived from the original name of

castle Greifenstein [left, no. 1332: bottom left; right, no. 1448; and below, no. 3471] on the hill 170 m above the town. The castle was first mentioned in the 12th century and came into possession of the Counts of Schwarzburg in 1280. It once was one of the largest castles in Germany. Count Günther XXI of Schwarzburg-Blankenburg was elected German (Anti-)King in 1349 in opposition to King (later Emperor) Karl IV, but died only five months later. The castle fell into dereliction after it was abandoned when the new residential castles in Rudolstadt and Arnstadt had been built. By the year 1800 only ruins had remained. This state is depicted on the bottom left inset of the picture on glass no. 1332 [left]. During the 19th and beginning 20th centuries, parts of the old castle have been reconstructed.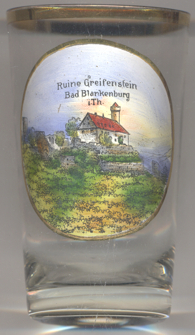 The picture on the bottom right inset of glass no. 1332 [left] shows the ruins of the former hunting lodge

castle Eberstein which had been built in 1844.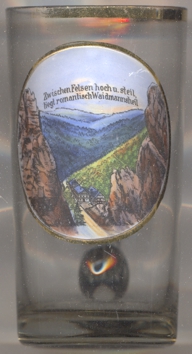 The former

Hotel Waidmannsheil was originally built as a forest house in the Schwarza valley. In 1872 it was rebuilt into a hotel, named Hotel Waidmannsheil. At the beginning of the 20th century it was enlarged generously by the addition of several loggias and balconies. In the 1950s, the hotel was used as a vacation home by the Wismut industrial union and was named after the anti-fascist resistance fighter 'Albert Hähnel'. Ten years later, the Free German Trade Union Confederation (Freier Deutscher Gewerkschaftsbund FDGB) took over the vacation home and had the building renovated in the 1980s. It has been empty since 1990. Due to its desolate condition, large parts of the building collapsed in December 2014. The ruins were removed soon after.

[http://www.rottenplaces.de/main/fdgb-erholungsheim-albert-haehnel-2845/]

---