DEUTSCHLAND
GERMANY
Bundesland: Freistaat Sachsen
Saxony
Landkreis: Vogtlandkreis
map →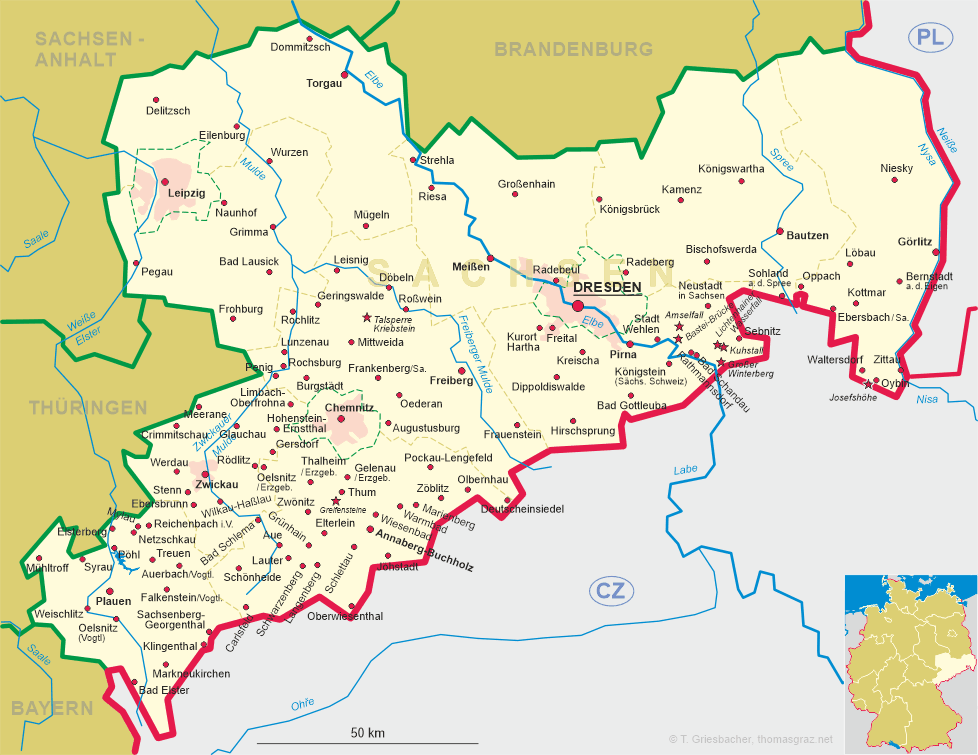 Klingenthal
• bg, sr: Клингентал
• ru: Клингенталь
Klingenthal is situated at an elevation of 569 m in the Vogtland region of soutwestern Saxony. The municipality has a population of about 8,000 (2020) and comprises the localities Klingenthal (with Quittenbach, Brunndöbra and Sachsenberg-Georgenthal), Mühlleiten and Zwota.
Its history began with the construction of a hammer mill in 1591. The name Klingenthal first appeared in a document of 1604. Violin makers came into the area in the mid-17th century. From then on instrument making remained one the most important economical factors for the town, very similar to the West Bohemian town of Kraslice (Graslitz) just across the border in the Czech Republic. Towards the end of the 18th century wind and brass instrument making was introduced, followed by the manufacture of mouth organs and harmonicas in the 19th century. In 1919, Klingenthal obtained the status of a town.
The

Protestant church Zum Friedefürsten (Lord of Peace) [top] was erected in Baroque style in 1737. It the second-largest round church of Saxony after the Frauenkirche (Lady Church) of Dresden.
The two buildings depicted in the bottom insets are labelled

Amtsgericht (local court) [bottom left] and

Schule (school) [bottom right]. No further information on these buildings could be found.
The

Sommerheim (hotel Summer Home) [left, no. 3280] was built in 1901 on the Kamerun hill about 180 metres above Klingenthal, near the summer restaurant Kamerun that had opened just two years earlier. The hotel burnt down already in 1906 while the restaurant kept operating for some further 60 years.

[https://de.wikipedia.org/wiki/Klingenthal; https://www.freiepresse.de/LOKALES/VOGTLAND/OBERES-VOGTLAND/Die-Kamerun-Region-liegt-noch-immer-im-Dornroeschenschlaf-artikel9463546.php]

---