| | |
| --- | --- |
| SLOVENSKO | SLOVAKIA |
| Trenčiansky kraj | Trenčín region |
| okres: Trenčín | |
map →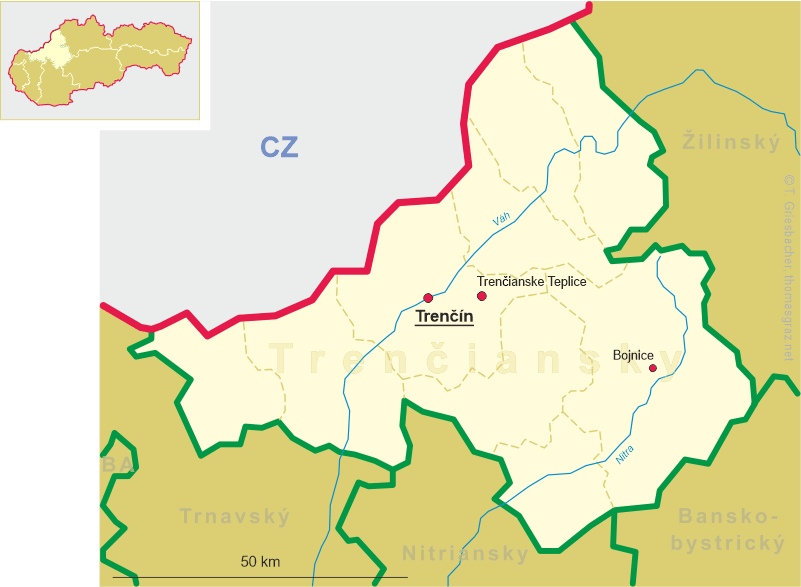 Trenčín
• lv: Trenčina
• hu: Trencsén
• lv: Trenčīna
• lt: Trenčynas
• pl: Trenczyn
• de: Trentschin
• el: Τρέντσιν
• bg, mk, ru, sr, uk: Тренчин
• be: Трэнчын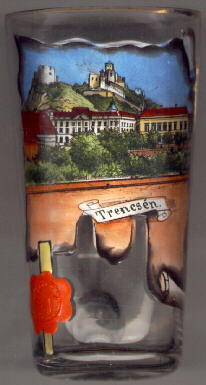 Trenčín is situated at an elevation of 211 m on the river Váh (Hungarian: Vág: German: Waag) on the eastern foothills of the mountain range Bíle Karpaty (White Carpathians). A latin inscription on the castle rock dating from 179 AD is probably the oldest written document in the region of modern Slovakia. The inscription praises the victory of the Roman legion stationed here in their army camp called Laugaricio over the Germanic tribe of the Quades. In the 1st half of the 11th century Trenčín became part of the Kingdom of Hungary. In 1412 it obtained the status of a free royal town. Today, Trenčín is the economical and industrial centre of the middle river Váh valley region.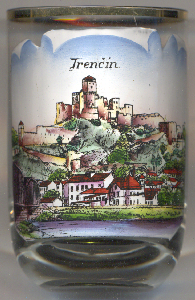 The

castle of Trenčín high on a rock above the old town, was founded already in the 11th century and was enlarged during the 13th century for the defence of the Váh valley. The main tower (33 m high) dates from that period. Further enlargements took place in the 15th and 16th century. The castle was largely destroyed by a fire in 1790 and was subsequently deserted. In 1954 a major project for the restoration of the castle was started. Today parts of the district museum are located in the castle.

The picture on glass no. 4334 [near left] shows a view of the

old railway bridge across the river Váh, built in 1883 as a steel truss bridge with 4 spans of 60 metres each. A second bridge of the same structure was built in 1907 right next to it to create a second track. The bridge was severely damaged during World War II, but reconstruction works immediately began in 1945. Only the new bridge (track no. 2) could be repaired, but the old, weaker structure of the older bridge was not suitable for repair so that it was replaced by a new structure (track no. 1). Already in the 1960s, the older construction in the left track did not meet the load capacity, space or technical condition, for which the speed of traffic on the bridge had to be limited. Therefore, in 1966, project preparation for the complex reconstruction of the bridge in track no. 2 began. The shape of the new structure had to be adapted to the structure in the first track and to comply with the future electrification of the Bratislava–Púchov line. The new bridge was built in 1982–1984. As in the meantime a completely new railroad bridge has been built nearby, the old bridge has been remodeled as a pedestrian and bicycle bridge.

[https://www.vlaky.net/trate/objekt/697/most-viadukt-trencin-most-cez-vah/; https://www.komoot.com/highlight/349610]

---