| | |
| --- | --- |
| NEDERLAND | NETHERLANDS |
| Gelderland | |
map →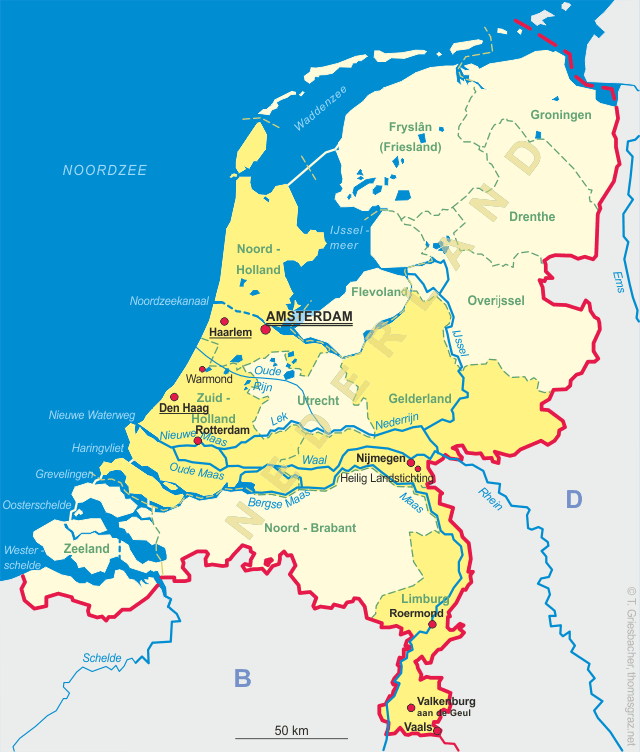 Nijmegen
• lt: Neimegenas
• lv: Nijmēgena
• es, it: Nimega
• fr: Nimègue
• de: Nimwegen
• pt: Noviomago
• el: Ναϊμέχεν
• be: Наймеген, Наймэген
• mk, sr: Најмеген
• bg, ru, uk: Неймеген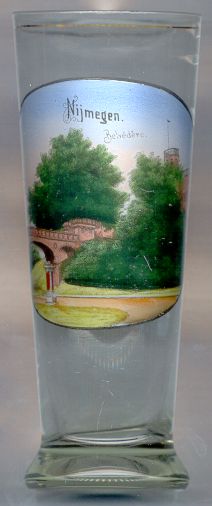 Nijmegen is situated at an elevation of 46 m at the river Waal in the eastern Netherlands close to the border to Germany. Due to the strategic position the Romans built a fort on the Hunenberg in 12 BC, which soon developed into a trading centre. Around 69/70 AD the Romans founded the village oppidum Batavodurum, which under the new name Ulpia Noviomagus (new market) received the rights as a market town in 105 AD. The Romans were slowly driven out of the area by German tribes during the next four centuries. Charlemagne took the fort and built his own palace in its place around 777 AD. Emperor Friedrich I (Barbarossa) enlarged this castle in 1150/1165. During the 10th century the name of the town changed from Numaga to Nijmegen. Nijmegen was chartered as a town in 1184 and obtained the status of a Free Imperial City in 1230. In 1402 it was listed as a member of the Hanse federation of trading towns. In 1543 it became part of the Spanish Kingdom. In 1579, Nijmegen joined the Union of Utrecht, which was founded as a defense measure against the Spanish oppression, and was finally liberated 1591. The Treaty of Nijmegen (1678) ended the Dutch War (1672–1678) between France and the Netherlands. The Catholic university of Nijmegen was founded in 1923. During World War II Nijmegen was bombed by mistake by Allied forces who mistook it for a German town.
The

Belvedère [left] is one of the remaining parts of the town fortifications built in the 15th century. The tower was built in 1646 in place of an older gate of 1540. The name Belvedère was given to it in 1585 by the Alexander Farnese, Duke of Parma, who as Spanish governor of the Netherlands had visited Nijmegen to inspect the fortifications and who had admired the splendid view.
Emperor Heinrich VI, second son of Friedrich I Barbarossa, was born in Nijmegen in 1156. He was elected German King in 1169 and after the death in 1190 of his father was crowned Roman Emperor in 1191. Heinrich VI died in Messina in 1197.

---