| | |
| --- | --- |
| UNITED STATES OF AMERICA | |
| COLORADO | |
| Fremont County | |
map →
Cañon City
• alt.: Canon City, Canyon City
• bg: Кениън Сити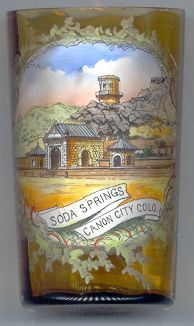 Cañon City, capital of Fremont County in Colorado, is located where the Arkansas River enters the eastern Colorado plains. Considered the climate capital of Colorado, Cañon City's natural setting protects it from harsh weather. Once a favorite camping area of the Ute Indians, both dinosaur bones and oil were discovered here. The Arkansas river, which offers great fishing west of the town, formed one of the most spectacular attractions in the state: the Royal Gorge. The world's highest suspension bridge hangs 1,053 ft (321 m) above the rushing river, offering unforgettable views of the 8 mile canyon.
Cañon City was founded in 1859 as a commercial center for miners seeking gold in the Rocky Mountains. Today it is a popular tourist destination for Whitewater rafting. The city is also famous for having 9 state and 4 federal prisons. In 1994, the Board on Geographic Names approved adding the tilde in the official name of Cañon City, a change from Canon City as the official name in decisions of 1906 and 1975. According to the 2006 Census, the population of the city is 16,000. [Text adapted from http://en.wikipedia.org/wiki/Cañon_City,_Colorado]
The

Soda Springs [left, foreground] at the east entrance to the Royal Gorge provided leisure and therapy to early settlers passing through Caņon City. The pavilion at Soda Point was built to house the hot iron and soda springs. Soda Point was demolished in 1949 to make way for U.S. Highway 50.
The

Guard Tower [left, background] was built in 1881 as part of the Colorado Territorial Penitentiary in Caņon City which accepted its first prisoner in 1871. The facility is still an active medium security prison with about 800 men in residence. To preserve the prison history, the Museum of Colorado Prisons opened in 1988. The Museum is located in the old women's prison built in 1935, just outside the east wall of the original Colorado Territorial Penitentiary.

---