| | |
| --- | --- |
| Principauté de MONACO | Principality of MONACO |
| quartier: Monte-Carlo | |
map →
Monte-Carlo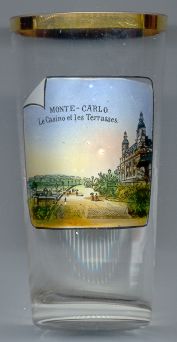 Monte-Carlo is one of the quarters of the Principality of Monaco. It is the principal residential area of Monaco and home of the world-famous casino. Until its urbanisation the locality was called Les Spélugues (literally 'the grottos'), but in 1866 it was renamed Monte-Carlo in honour of Prince Charles III of Monaco. Another reason for renaming the quarter might have been that the German word "Spelunken" is used for dodgy back-street bars, which of course must have had a displeasing connotation for visitors of the splendorous casino.
The history of the famous

casino of Monte-Carlo goes back to 1856 when Prince Florestan I issued a license for a casino to two Frenchmen. The casino was not successful, even under new ownership. The construction of a new casino on the plateau of Les Spélugues was begun in 1858. The new, impressive building was opened on the 18th of February 1863. On the 1st of April of the same year François Blanc, who had already successfully directed the casino of Bad Homburg, obtained the license, which at first was limited for a period of 50 years. Blanc founded the "Société des Bains de Mer et du Cercle des Étrangers à Monaco" (SBM) which still owns the casino today. Blanc also realized that one of the reasons for the lack of success of his predessessors was the lacking infrastructure. He therefore actively promoted the building of new hotels and better ways of traffic connections. The new railroad to Monaco was opened in 1868 which caused a drastic increase in the number of visitors of the casino. The casino became so successful that Prince Charles III in 1869 abolished all direct taxes and for several decades could finance the principality with the income from the casino alone. Both World Wars caused a decline in the profits of the casino. After World War II, and especially after the marriage in 1956 of Prince Rainier III with the Hollywood star Grace Kelly, the enterprise flourished again and Monte-Carlo became a dorado for the millionaires of Europe. Today, the casino only contributes about 5% to the budget of the principality and in several years even made a loss. The SBM today primarily is operating as a hotel and restaurant enterprise. Apart from the casino it owns several top restaurants, luxury hotels, the "Monte Carlo Sporting Club", the spa "Thermes Marins", discos, the cabaret, the opera, and the famous "Beach Club".

---