| | |
| --- | --- |
| SLOVENSKO | SLOVAKIA |
| Bratislavský kraj | Bratislava region |
| okres: Pezinok | |
map →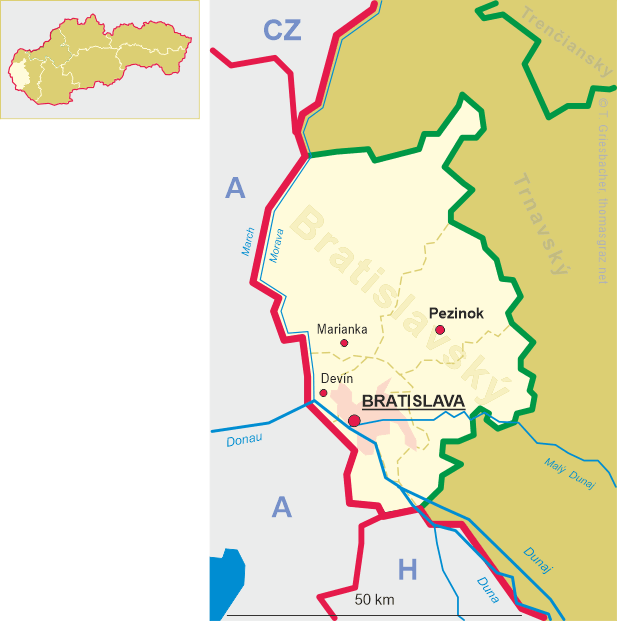 Pezinok
• hu: Bazin
• de: Bösing
• ru, sr: Пезинок
• uk: Пезінок
Pezinok is situated at an elevation of 156 m about 18 km northeast of the Slovakia's capital Bratislava. The earliest document mentioning the place dates from 1208. Pezinok became famous as a wine-growing community. In 1647 it obtained the status of a Free Royal Town in the Kingdom of Hungary. In return for its privileges the town had to deliver a yearly tribute of 150 buckets of wine to the royal court. Gold was mined in the nearby mountains until the 19th century, mining for antimony lasted until the 20th century. After World War II Pezinok became a district town in 1947, but lost this status in 1960. Since 1996 it is again the capital of the Pezinok district and currently has a population of almost 22,000 people.
The

"Lower church" (Dolný kostol najsvätejšieho Spasiteľa alebo Premenenia Pána, Lower church of the Most Holy Messiah or the Transfiguration of the Lord) [left] was built in1655–1659 in Late Renaissance style by the Protestant community of Pezinok. After its conversion to a Catholic church in 1674 it was remodelled in monumental Baroque style. The church has a precious organ created in 1662.
Born in Pezinok were: the Baroque painter Ján Kupecký (1667–1740), and Eugen Suchoň (1908–1993), one of the most prominent representatives of 20th century Slovak music.

---