| | |
| --- | --- |
| UNITED STATES OF AMERICA | |
| MAINE | |
| Hancock County | |
map →
Castine
The lovely and historic town of Castine is situated at the end of a peninsula on the east side of Penobscot Bay, at the confluence of the Penobscot and Bagaduce rivers, about 15 miles due south of Bucksport and U.S. Highway 1. Castine is truly a unique Maine village. The great and ancient American elms that have been destroyed by disease in most New England towns are healthy and glorious in Castine due to its remote location and the vigilance of its citizens.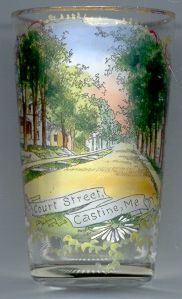 Samuel de Champlain first stepped ashore in the Castine area in 1604. The region remained under French control for nearly 150 years, except for 1674 and again in 1676, when Dutch raiders destroyed the French forts. The British arrived in force in 1759 and began to settle the land. When the Revolutionary War began, the British moved quickly to defend Castine against a large flottilla of armed vessel from Massachusetts carrying 1,000 ill-trained militia and 400 marines. Despite a tremendous advantage in manpower, ships and guns, the American leaders managed to extract defeat from the jaws of victory, losing every ship in their 42-vessel fleet and nearly half of the men. Some historians consider this to be the worst American naval defeat in history. Prior to the war, the border of Maine and the northern end of the American colonies was considered to be the Penobscot River and all territory east was part of Nova Scotia. However, when the Treaty of Paris was signed ending the revolution, the boundary was moved about 100 miles to the northeast to the St. Croix River and Castine was now securely in the heart of the Maine coast. The British returned to Castine in 1814 and remained until September of 1815, when Castine again became an American town. After the wars with the British, Castine prospered from the sea through shipbuilding, fishing and trading. The Civil War marked the end of the maritime boom in such a small town when the naval industries began to concentrate in the big ports. By the late 1880s, Castine was rediscovered by summer visitors or "rusticators," as the natives called them. New summer "cottages" were built, a golf course was added and Eastern State Normal School was established. In 1942, the Maine Maritime Academy took over the facilities of the school. Today it has a beautiful campus, a large training ship that's often in the harbor and some 700 students.
The picture on glass no. 1594 shows a view of

Court Street. Many homes built in the late 18th and early 19th centuries are still in pristine condition.
[Texts adapted from www.castine.org]

---