| | |
| --- | --- |
| POLSKA | POLAND |
| województwo: Lubuskie | voivodship: Lebus |
| powiat: Krosno Odrzańskie | county: Krosno Odrzańskie |
map →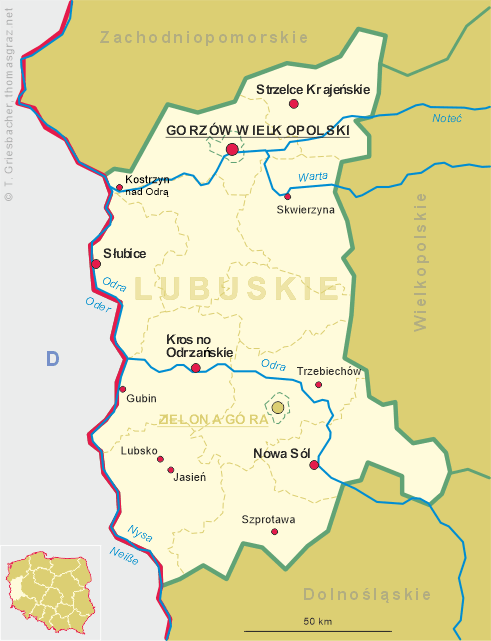 Gubin
• de: Guben
• pl, hsb: Gubin
• ru: Губин
• uk: Губін

Gubin (German: Guben) is situated at an elevation of 45 m on the river Nysa Łużicka (Lausitzer Neiße) in the Lubuskie region in southwestern Poland at the border to Germany.
The place was founded around 1200 by the margrave of Meißen at the crossroads of important trading paths from Leipzig to Poznań (Posen) and from Zgorzelec (Görlitz) to Szczecin (Stettin) and the Baltic Sea. Gubin obtained the status of a town in 1235. From 1367 onward it belonged to the Bohemian Crown before it was returned to the Electorate of Saxony in 1635. In 1815 Guben became a district town in the Prussian province of Brandenburg. The modern development began in 1816 when the first wool spinning mill was opened. The production of hats began in 1854 and soon the millineries of Guben produced about two thirds of all hats sold in all Germany. In 1945 about 90% of the town was destroyed. After the war, the town was divided and the eastern part of the town (Gubin) became part of Poland while the western part (Guben) remained with Germany.
Since 1989 there is an intensive cooperation between the two parts of the divided city. A formal partnership was signed in 1991 and a "common structural plan for the Euro-city of Guben/Gubin" was agreed in 1996. Water and electricity is supplied by Guben while the joint sewage plant is located in Gubin.
The

Municipal Theatre [bottom left] was built in 1874 by the architect Eduard Titz on the island in the river, which since 1945 belongs to the Polish part of the town. A few months after the end of the war the theatre was destroyed by fire.
The

Bismarck tower [bottom right] was built in 1905–1908 in memory of Otto von Bismarck, the founder of the German Empire. The brick tower was erected on a floor space of 12 by 12 m and had a height of 27 m. The cost was 49,000 Marks. The tower was blown up in 1945.
Several glasses of this collection show other Bismarck monuments.
The top picture depicts sites in the western, German, part of Guben.

---