| | |
| --- | --- |
| DANMARK | DENMARK |
| Region Hovedstaden | Copenhagen Capital Region |
map →
København
• ga: Cóbanhávan
• it: Copenaghen
• pt, ro: Copenhaga
• en: Copenhagen
• es, fr: Copenhague
• is: Kaupmannahöfn
• fo: Keypmannahavn
• sl: Kobenhaven
• cs, sk: Kodaň
• fi: Kööpenhamina
• ee: Kopenage
• et: Kopenhaagen
• tr: Kopenhag
• lt, pl: Kopenhaga
• de, nl: Kopenhagen
• lv: Kopenhāgena
• se: Köpenhamn
• hu: Koppenhága
• el: Κοπενγχάγη
• be: Капэнгаген
• bg, mk, sr: Копенхаген
• ru, uk: Копенгаген
Copenhagen, the capital of Denmark, is situated on the island Sjælland (engl.: Zealand), the largest of the Danish Baltic Sea islands. Parts of the town are also situated on the island Amager. Copenhagen faces the Øresund, the strait of water that separates Denmark from Sweden, and that connects the North Sea with the Baltic Sea. On the Swedish side of the sound directly across from Copenhagen lie the towns of Malmö and Landskrona.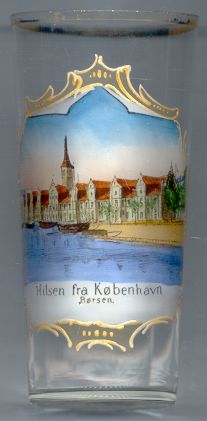 Copenhagen goes back to a castle that was founded here in the 12th century in order to protect a small harbour at the Øresund. The settlement around the castle was called Křbmandens Havn ('merchants' harbour') which later evolved into the modern name København. Copenhagen was chartered as a town in 1254, but was destroyed by the rivaling Hanse federation of trading towns. Nevertheless, Copenhagen was rebuilt and in 1416 became the residence town of the Danish kings. In 1443 it also became the official capital, which before had been in Roskilde. The town flourished in the early 17th century under the reign of Christian IV. The following 150 years proved to be a period of repeated hardship for Copenhagen. It was besieged by Swedish troops in 1658 and 1659, epidemics caused the death of about one third of its inhabitnants in the 18th century, two large fires in 1728 and 1795 destroyed large parts of the town, and two attacks by English forces in 1801 and 1807, which were executed in order to prevent Denmark to side with Napoleon, caused further severe damages. The two battles became known as the 'Battles of Copenhagen', the first of which was led by Admiral Horatio Nelson. After the English victory Copenhagen had to surrender all ships that were anchored in the harbour.
Nevertheless, Copenhagen recovered soon and began to grow so rapidly in the 19th century that its fortifications had to be torn down. During the 20th century the population decreased temporarily because many people moved to the suburbs. During World War II Copenhagen was occupied by German forces along wit the rest of the country from April 1940 until May 1945. Since the end of the war the city of Copenhagen has grown considerably. The construction in 2000 of the Øresund bridge, which connects Copenhagen with Malmö in Sweden, Copenhagen has become the center of a larger metropolitan area which spans both nations. Copenhagen was selected by the Council of the European Union to be European City of Culture for 1996.
Glass no. 1623 shows the historical

stock exchange (Børsen) which was built between 1619 and 1640. The impressive building is marked by a late Renaissance façade and the characteristic 'dragon's tail' tower (54 m high). It is a landmark of Copenhagen. Until 1974 the building served as the Copenhagen stock exchange.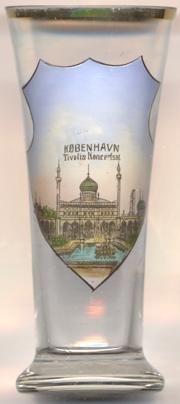 Glass no. 3710 [near left] shows a view of the

Tivoli Concert Hall, built in 1902. The first concert hall in Tivoli Gardens opened in 1843. It was expanded in 1873 and is the building now known as the Glass Hall. In 1902, a new concert hall was built in 'Moorish' style. This building (depicted on the glass) was designed by the architects Knud Arne Petersen and Richard Bergmann. The building was destroyed during a retaliation operation by Germans and their Danish collaborators on the night between 24 and 25 June 1944 as as revenge for resistance activity in the last part of the occupation of Denmark between 1944 and 1945. After the war, the concert hall was rebuilt to a new, Modernist design by Frits Schlegel and Hans Hansen. In 2005 the concert hall saw a major renovation and extension by 3XN where the classical 1950s style of the main auditorium — including a characteristic color scheme of red, blue, yellow and green — was restored, while visitor facilities were upgraded and expanded.
[https://en.wikipedia.org/wiki/Tivolis_Koncertsal]

---