| | |
| --- | --- |
| ÖSTERREICH | AUSTRIA |
| Bundesland: Oberösterreich | Upper Austria |
| Bezirk: Ried im Innkreis | |
map →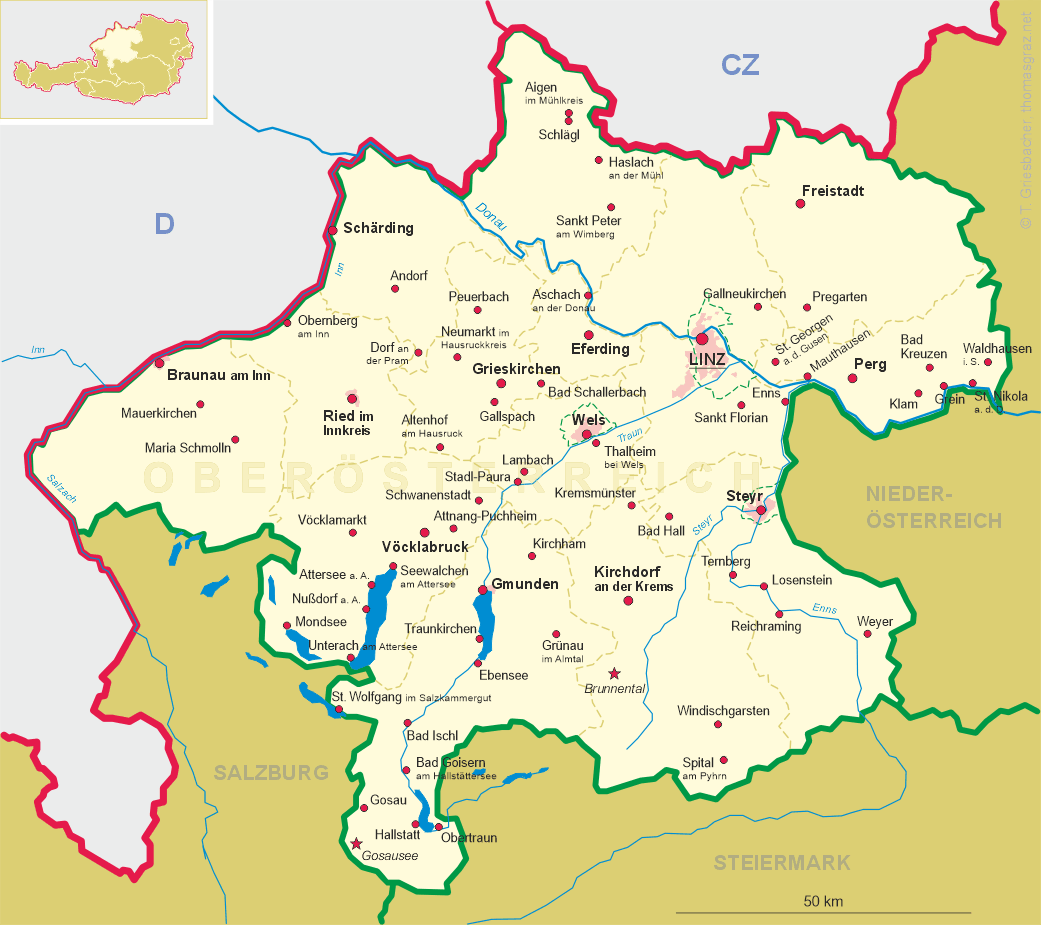 Ried im Innkreis
• lt: Rydas (Inas)
• ru: Рид-им-Иннкрайс
• uk: Рід-ім-Іннкрайс
Ried im Innkreis is situated at an elevation of 429 m at the northern slopes of the Hausruck mountains and is the centre of the Innviertel (Innkreis) region of Upper Austria, and teh seat of the administration of the district Ried im Innkreis. The name goes back to the Middle High German word riet, meaning marshy grounds.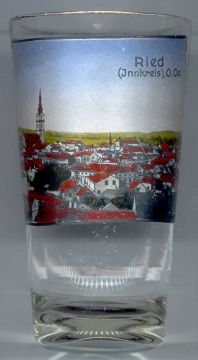 Ried was first mentioned in 1136. Around 1200 and the region came in possession of the Dukes of Bavaria. By 1364 it had obtained the status of a market town and in 1416 it was granted privileges of a town. After the Peace of Teschen (today divided between Cieszyn, PL, and Český Těšín, CZ) in 1779 the Innviertel was awarded to Austria. In 1857 Ried obtained the status of a city.
The most famous sons of Ried im Innkreis are the wood-carvers of the Schwanthaler family. Thomas Schwabenthaler (1634–1707) was the first of the family to become a widely recognized artist. He carved the Floriani altar (1669) in the parish church of Ried. His main work is the main altar of the pilgrimage church of Sankt Wolfgang im Salzkammergut. Other works are found in Gmunden, Maria Plain, or Reichersberg am Inn. From 1679 Thomas named himself Schwanthaler. His grandson Johann Peter the Elder (1720–1775) was the most prominent artist of the Rococo period in the Innviertel region and later gradually changed his style to the beginning Classic period. Up to four members of the family worked in his workshop in Ried. Johann Peter's nephew, Johann Georg (1740–1828) established an own workshop in Gmunden. Johann Peter's son, Franz Jakob (1760–1820) moved to Munich. His son, Ludwig Michael (1802–1848), became famous as a creator of representative sculptures, among them the monumental 'Bavaria' in Munich.
The

city parish church Sankt Peter und Paul [background left] goes back to a Gothic church, probably of the 14th century. Parts of that church are preserved in the presbytery and in the lower parts of the tower. The present church was built in 1720–1734. The church tower (73 m high) was rebuilt after a fire in 1854, its roof was restored in 1929. Treasures of the church are the Floriani altar (1669) by Thomas Schwanthaler and the Calvary group, which also is attributed to him.

---