| | |
| --- | --- |
| UNITED STATES OF AMERICA | |
| ILLINOIS | |
| Jo Daviess County | |
map →
Galena
• ru: Галина
Galena is situated at an elevation of 688 ft (209 m) about 6 miles east of the Mississippi River in the extreme northwest of Illinois. It is the county seat of Jo Daviess County. As of the census of 2000 Galena has a population of about 3,460.
The Glaciers that flattened most of North America during the ice age did not encroach on Northwestern Illinois and the immediate areas to the north and west. Consequently the hills, valleys and bluffs in this Mississippi River Valley area remain intact making it one of the most scenic areas in the Midwest.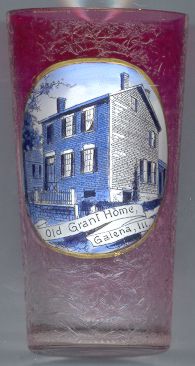 By the 1800s, lead ore mining lured adventurers and fortune seekers to investigate what French explorers had uncovered almost 100 years earlier. The adventurers built a trading post and the booming community became a trendsetter as steamboats traveled the Mississippi. Stately buildings and ornately designed homes represented the affluence of the area. Community leaders named the city Galena (sulfide of lead) as a tribute to its growth and in 1826 it was organized as a town. By the 1850's Galena was the busiest port between St. Paul and St. Louis often boasting as many as fifteen steamboats at a time docked along Water Street. In 1845 Galena shipped a record 54,494,850 pounds of lead. Population soared to 14,000 individuals. Galena's focus changed with the Civil War. The town produced nine Union Army generals, including Ulysses S. Grant, who left his footprints on history as the 18th President of the United States.
Since the 1960s, the communitiy has strived to preserve its heritage by carefully restoring its buildings. Fully Eighty-five percent of Galena's buildings are in a National Register Historic District.
The picture on glass no. 1730 [left] shows the

Old Grant Home on High Street. In 1860, Ulysses S. Grant came to Galena to work in his father's leather goods store. One year later General Grant left for the civil war from his home which still stands today.
Upon his triumphant return from the Civil War in 1865 a group of citizens presented his family with a fine, fully furnished home on Bouthillier Street as a token of their gratitude. Grant was elected 18th President of the United States in 1869 and served two terms until 1877.
[Texts adapted in part from http://www.cityofgalena.org/history.htm and http://www.communitylink.com/galena/location.htm.]
---