| | |
| --- | --- |
| LATVIJA | LATVIA |
| Liepājas rajons | Liepāja district |
map →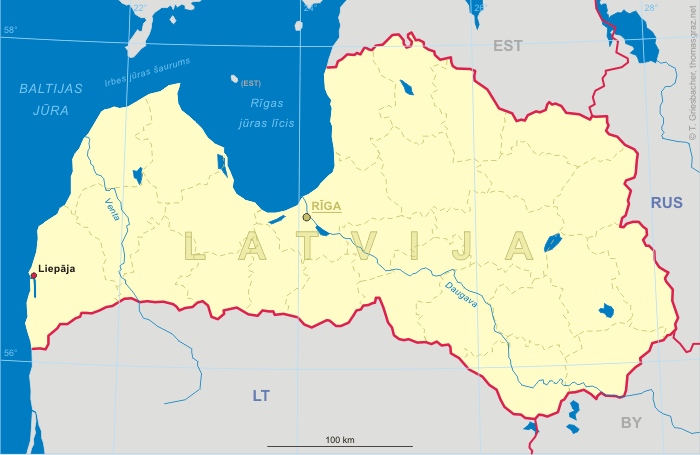 Liepāja
• de: Libau
• lt: Liepoja
• et: Liibavi
• cs: Lipava
• pl: Lipawa
• el: Λιεπάγια
• ru: Либава, Лиепая
• mk: Лиепаја
• bg: Лиепая
• sr: Лијепаја
• be: Ліепая
• uk: Лієпая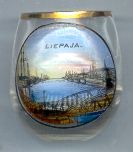 Liepāja is situated at the Baltic Sea coast of western Latvia (Kurzeme, historic Courland region), about 223 km west of the country's capital, Rīga. Liepāja is an important port and is Latvia's third-largest city with a population of about 87,000 (2003).
The place began as a small village at the mouth of the river Līva and was first mentioned in 1253 under the name Lyva dpor (Lyva village, 'liiw' meaning sand in the Liv language) in a document dividing the land between the Livonian Order and the Bishop of Courland. Since about 1560 its name was Liepaja or, German, Libau. Duke Friedrich Kettler of Courland granted it the status of a town in 1625, which was confirmed in 1626 by the King of Poland, Sigismund III Vasa (Zygmunt Waza). As the Līva river often got choked with sand, the construction of a canal was begun in 1697. This marked the beginning of Liepāja as a port town.
In 1795, Courland (also known as Kuronia) became a province of the Russian Empire, and the port of Liepāja was used for export of goods such as grain, wood, linen, wool and oil. The peak of the city's development started with the construction of the Liepāja – Romni (now Romny [Ромни], Ukraine) railway. A transatlantic ferry line Liepāja – New York – Halifax was opened in 1906. From 1899 until 1909 Liepāja served as a military port, and 8 km of land fortress were built. The military town around it with Officers Mess, Orthodox church and Riding Hall is an important tourist attraction today. During World War I, Liepāja was occupied by the German army. After the war, when the independent state of Latvia was founded, Liepāja became the interim capital of the country for a few months. During World War II large parts of the city were destroyed by bomb raids. After the war, it became an important Soviet Naval base due to its ice-free port. Liepāja became a closed city and even local people needed a special permit to enter the city.
After Latvia regained its independence Liepāja has worked hard to change from a military city into a modern port city. The commercial port was re-opened in 1991 and in 1994 the last troops of the Russian Federation left Liepāja. In 1997 the Liepāja Special Economic Zone, which provides a low tax environment for a period of 20 years, was established in order to attract foreign investors and facilitate the economic development of Liepāja.

---