| | |
| --- | --- |
| UNITED STATES OF AMERICA | |
| WISCONSIN | |
| Chippewa County | |
map →
Chippewa Falls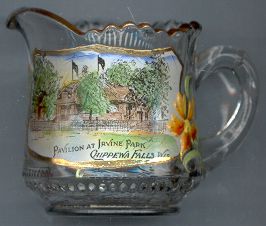 Chippewa Falls is located at an elevation of 859 ft (262 m) on the banks of the Chippewa River in the western central region of Wisconsin. It was settled in 1837 and was incorporated as a city in 1869. Originally a lumbering town, it once had the world's largest sawmill. Nearby Wissota State Park includes Lake Wissota (created 1917), Wisconsin's largest reservoir. Chippewa Falls is the county seat of Chippewa County (formed 1845) and is part of the Eau Claire metropolitan area. According to the census of 2000 Chippewa Falls has a population of about 12,900.
The two glasses no. 1778 [left] and no. 1779 [right] show the

pavilion at Irvine Park. The park was created in 1906 on a number of acres donated to the city by William Irvine. The size of the park has grown throughout the years and is now 318 acres (about 129 ha).

---