| | | |
| --- | --- | --- |
| ČESKÁ REPUBLIKA CZECH REPUBLIC | | | POLSKA POLAND |
| Královéhradecký kraj Hradec Králové region | | | Dolnośląskie Lower Silesia |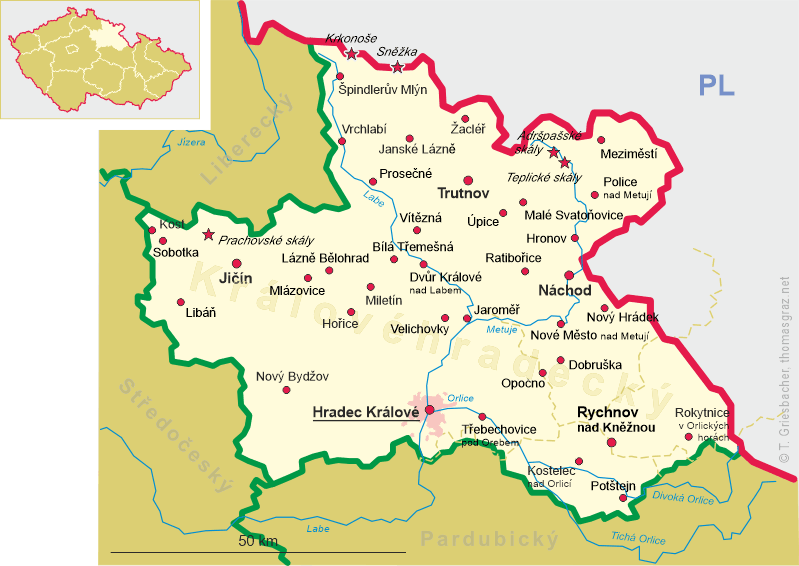 ← map CZ
• de: Schneekoppe • fr, pt: Sniejka
• be, bg, ru: Снежка • uk: Снєжка • mk, sr: Сњежка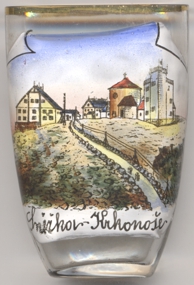 The Sněžka (Czech) or Śnieżka (Polish) (German: Schneekoppe) is the highest elevation (1,602 m) in the Giant Mountains (Czech: Krkonoše; Polish: Karkonosze). The mountain is also the highest elevation of the Czech Republic and is located directly at the border between the Czech Republic and Poland. The Czech name Sněžka ('snowy' or 'snow covered') was introduced in 1823. Before that time the Czech names were Pahrbek Sněžný and Sněžovka.
The first historical account of an accent to the peak is in 1456, by an unknown Venetian merchant searching for precious stones. Soon after, miners founded the first settlements near the mountain in order to exploit its deposits of iron, copper and arsenic. A total of 1,5 km of the old mining shafts still remain preserved today. The first building on the mountain top was a chapel of St. Lawrence, which also served as an inn for some time. The first hut was built on the Polish (then Prussian) side of the mountain top in 1850, followed by another hut on the Czech (Bohemian) side in 1868. The Polish hut was since rebuilt twice after having been destroyed by fire. A wooden weather station was built on the mountaintop circa 1900, being the only such station in Central Europe remaining intact after World War II. It was demolished in the 1980s.
The mountaintop is separated into the Czech and Polish sides by a sign that says "state border" in both languages, with no other forms of border control in place. The Polish side is host to the abandoned "Polish hut" and a circle-shaped hotel, built in 1976. The Czech side features the remains of the "Czech hut", a post office and a chairlift station, connecting the peak with the town of Pec pod Sněžkou (Petzer) at the foot of the mountain. Construction was expected to begin in the summer of 2004 for a new post office and observation platform to replace the current post office and the "Czech hut".

[https://en.wikipedia.org/wiki/Sněžka]

---