| | |
| --- | --- |
| UNITED STATES OF AMERICA | |
| INDIANA | |
| Orange County | |
map →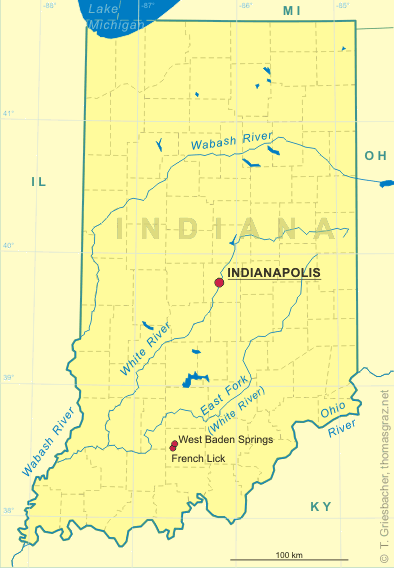 West Baden Springs
• ru: Уэст-Баден-Спрингс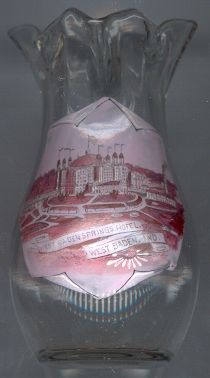 West Baden Springs is located at an elevation of 587 ft (178 m) about 113 miles (180 km) south of Indianapolis. One mile to the south lies the resort town of French Lick. According to the census of 2000 West Baden Springs has a population of 612.
The area's mineral springs and salt licks were discovered in 1778. The opening in 1832 of the French Lick Springs Hotel provided the basis for the region's reputation as a mineral springs resort. The original name of the town, Mile Lick, was changed to West Baden Springs in 1855 after the famous resort town of Wiesbaden in Germany. After 1888 the West Baden Springs hotel was changed into a sophisticated resort, including an opera house, casino,a two-deck pony and bicycle track and a full-size baseball field. The old hotel was destroyed in 1901 by a fire.
The new

West Baden Springs Hotel [left] was designed by Harrison Albright and was constructed in 1902 in just 277 days. The hotel is one of the most unique architectural structures of the United States. Until 1963, when the Astrodome was built, the central dome of the hotel was the largest in the world, 200 feet (61 m) in diameter and 100 feet in height. It is thus larger than the domes of St. Peter's Basilica in the Vatican City (diameter 42 m) and the Pantheon in Rome (diameter 43.3 m). With 700 rooms and natural mineral springs used for bathing and drinking the hotel drew celebrities from all around the country. The complex also included facilities for basball, golf, horseback riding, bowling, billiards, swimming, hiking, and nightly theater.
The stock market crash in 1929 caused the immediate decline of the hotel. The Jesuits took over the property in 1934 and over time altered much of its original ornamental design. In 1966 the former hotel became the home of the Northwood Institute, a hotel management and culinary arts school, which operated until 1983. During the following thirteen years the property was neglected. In 1996 the Historical Landmarks Foundation of Indiana (HLFI) purchased the property. In 1996–1998 the hotel was renovated at a cost of $ 31 million, most of which was donated by Cook Group Inc.

---