| | |
| --- | --- |
| SLOVENSKO | SLOVAKIA |
| Prešovský kraj | Prešov region |
| okres: Stará Ľubovňa | |
map →

Podolínec
• hu: Podolin
• lv: Podolīneca
• lt: Podolinecas
• pl: Podoliniec
• de: Pudlein
• ru: Подолинец
• sr: Подолињец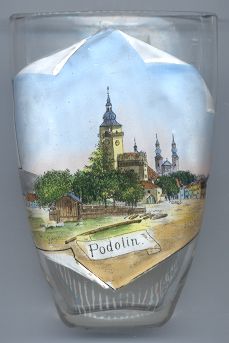 Podolínec is situated at an elevation of 559 m on the Poprad river in the Stará Ľubovňa district of the Prešov region of northeastern Slovakia.
Podolínec was founded in the early 13th century. The oldest document mentioning Podolínec dates from 1235. It refers to a dispute between the bishops of Esztergom and Kraków about which of the two should receive the taxes of Podolínec. Shortly after that, the northern border of the Kingdom of Hungary shifted north to the Poprad river (in the 1250's) and northwest to the Dunajec river (about 1260). The so-called "districtus Podliensis" with Podolínec and Stará Ľubovňa was firmly incorporated only in the 1290's. The norther border of the Spiš county only stabilized in the early 14th century. In 1292 Podolínec was chartered asa town and in 1412 it obtained the status of a Free Royal Town. However, the Spiš county was dissolved in 1412 because Sigismund of Luxembourg, Holy Roman Emperor, King of Bohemia and of Hungary, pawned 13 of the 24 Spiš towns (including the area around Stará Ľubovňa with Podolínec) to Poland in order finance his war against Venice. Short-term pawns were not uncommon at that time, but in the case of the Spiš towns this pledge eventually took 360 years. The towns pawned to Poland kept their privileges, now with respect to the Polish king, whereas the towns that remained in Hungary lost most of their prerogatives. Several attempts to repay the debt failed, but eventually Maria Theresia of Austria occupied the Polish part of the Spiš county by force taking advantage of the Polish noble insurrections of the late 18th century. The act was confirmed by the First Partition of Poland in 1772 (see map), and the pawn was officially cancelled in 1773. In 1778 the 13 towns regained their privileges of 1271, and the privileges were also extended to Hniezdne (Hungarian: Gnézda, German: Gniesen), Podolínec (Podolin, Pudlein) and Stará Ľubovňa (Ólubló, Altlublau). Spišská Nová Ves (Hungarian: Igló; German: Neudorf, Zipser Neudorf, or Neuendorf) became the capital of the new "Provinve of 16 Spiš towns". However, the privileges were gradually reduced over the following 100 years, and the province was dissolved and incorporated into the Spiš county in 1876/84.
The

church of the Piarist monastery [background right] was built together with the monastery in Baroque style in 1647–1651. The monastery had been founded in 1642. In 1950–1951 the Communist government used former monastery as a concentration camp for about 600 Slovak priests.
The

church of the Ascension of Our Lady [foreground left] was founded in 1295. A new church was built in 1360–1430.
The Renaissance

belfry [foreground centre] was built in 1659. Its oldest bell dates from 1392.

---