| | |
| --- | --- |
| UNITED STATES OF AMERICA | |
| KANSAS | |
| Marshall County | |
map →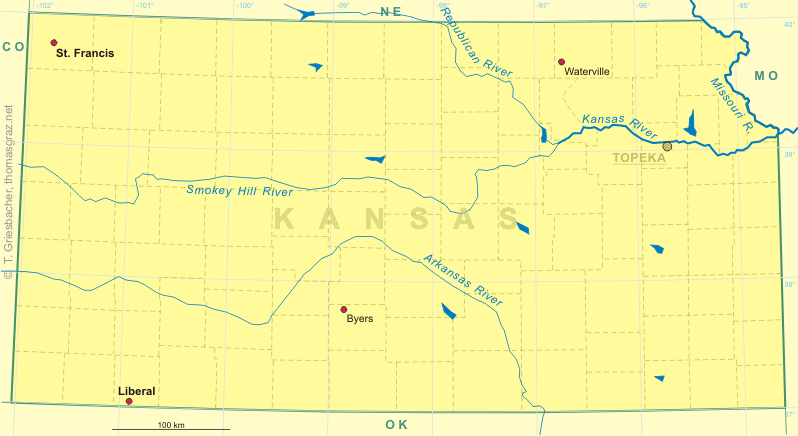 Waterville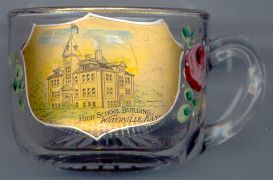 Waterville is situated at an elevation of 1,230 ft (374 m) on the Little Blue River in the southwest of Marshall County in northeastern Kansas. As of the 2000 census, the city had a total population of 681.
Waterville was established in 1867 as a pioneer town at the end of the Historical Waterville Logo railroad. The site was determined when the railroad decided to extend west exactly 100 miles from Atchison, KS. It was named by William Osborne, a railroad superintendent, for his hometown of Waterville, NY. As an "end of the line" town, Waterville served as a supply center for the area and as a shipping center for livestock, grain and other local products. It also accommodated travelers in several hotels. As churches and schools were built, this rowdy cow town took on a more serene and gracious tone. Soon, many new homes and businesses were established. Through the years, Waterville has cherished and cared for many of these features while keeping pace with the times. Today, many of the old Victorian homes, the railroad station and many other historic buildings are still preserved along tree-lined streets. The wonderful turn-of-the-century homes of Waterville include: Thorne House (1880s), Powell House (1895), Hall House (1899), Virgin Home (1903), and Thomas House (1909). In addition, the Weaver Hotel (1905, listed on the National Registry of Historic Places) and the Opera House (1903) are still in use (the latter as a theatre for community and school productions).
The picture on glass no. 1987 shows Waterville's first

High School. The building was constructed in 1872 for approximaetly $12,000. In the 1950s it was torn down because of a bad roof. Today, the Waterville Elementary School sits on this site.

[Many thanks to Sandy Harding from Waterville, KS, for valuable information regarding Waterville HIgh School.]
[Text modified from http://www.watervillekansas.com/]

---