| | |
| --- | --- |
| ROMÂNIA | ROMANIA |
| județ Bihor | Bihor County |
map →
Pădurea Neagră
• hu: Fekete-erdő
• de: Schwarzwald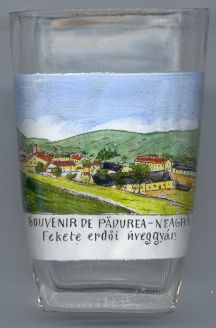 The old spa town Pădurea Neagră is situated at an elevation of 432 m in the Bihor county of western Romania. The village is part of the municipality of Aleșd.
The name Pădurea Neagră, just like the former names in Hungarian (Fekete-erdő) and German (Schwarzwald), means 'Black Forest'.
The picture on glass no. 2063 [left] is labeled "Souvenir de Pădurea Neagră" (Romanian for 'Souvenir from Pădurea Neagră') and "Fekete-erdői üveggyár" (Hungarian for 'Pădurea Neagră bottle factory').

---