| | |
| --- | --- |
| DEUTSCHLAND | GERMANY |
| Bundesland: Freistaat Thüringen | Thuringia |
| Landkreis: Saale-Orla-Kreis | |
map →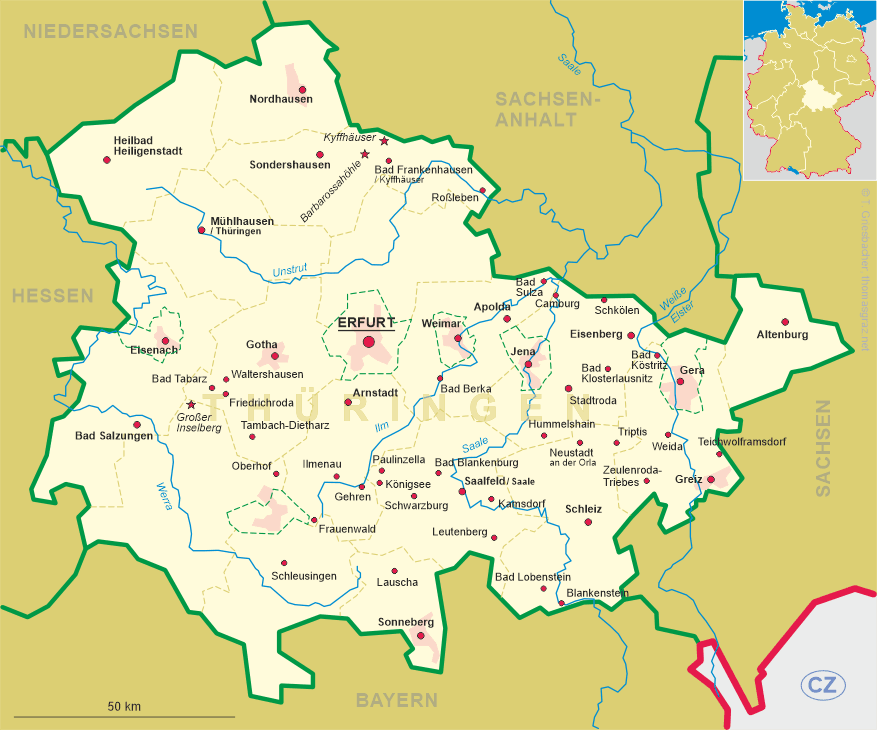 Schleiz
• ru: Шлайц
Schleiz is situated at an elevation of 432 m in the Thuringian Vogtland region. The city has a population of about 9,000 (2005) and is the district town of the district Saale-Orla-Kreis.
The "Altstadt" (old town) was founded around 1200. The earliest written mentions are found in documents of 1232 (Slowicz), 1273 (Slowitz) and 1284 (Slewicz). The "Neustadt" (new town) was founded next to the old town on a regular gruond plan. The new was fortified and was protected by a castle. Both communities remained separate entities until 1482 when they were merged into one municipalty. Schleiz was the residence town of the counts (1806 princes) of Reuß-Schleiz until 1848. In that year, Reuß-Schleiz took over the principality of Reuß-Ebersdorf and Lobenstein, and the residence of the principality, now named Reuß Junior Line, was moved to Gera. In 1922 Schleiz became the administrative seat of the district of the same name. Lobenstein was separated from the district in 1952. The present district, Saale-Orla-Kreis, was created in 1994 by a merger of the former districts Schleiz, Lobenstein and Zeulenroda. The neighbouring communities of Langenbuch, Lössau and Oberböhmsdorf were incorporated into Schleiz in 1994, Möschlitz and Gräfenwarth followed in 1995 and 1996, respectively.
The

residence castle of the princes of Reuß-Schleiz [left] was built in 1837 in place of the original castle, which had been mentioned first in 1367. The castle was destroyed in 1945. Most parts of the ruins were removed in 1950.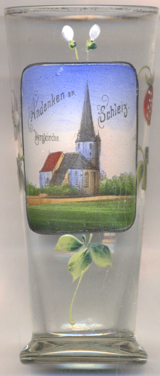 The

Bergkirche Sankt Marien goes back to a chapel that was built here, on an elevated site, in the 12th century. The oldest extant part of the church is a sandstone portal from the 2nd half of the 12th century. The oldest known mention in a written document dates from 1359 when the Teutonic Order ame in possession of the church and had it remodelled into a Gothic church of Our Lady until 1382. Between 1484 and 1507, the tower and the chancel were rebuilt. It was here that in 1533 the first Protestant service in Schleiz took place. The church was remodelled in Baroque style between 1622 and 1638. Since 1500 the church is the burial site of the members of the Princely Reuß family. The old Burgk burial vault beneath the tower houses 12 tombs of the Burgk branch of the family. The tombs of the new Burgk burial vault, created in 1639, were moved to the cemetary in 2007/2008 because the vault was in danger of collapsing. The Princely vault, built in 1676 for the Counts of Reuß, was closed in 1913 after the funeral of Prince Heinrich XIV Reuß Junior Line (since 1902 also regent of Reuß Elder Line).
[https://de.wikipedia.org/wiki/Bergkirche_St._Marien_(Schleiz)]

---