If you came to this page directly and do not see a navigation frame on top, please go to the home page.
| | |
| --- | --- |
| ROMÂNIA | ROMANIA |
| județ Caraș-Severin | Caraș-Severin County |
map →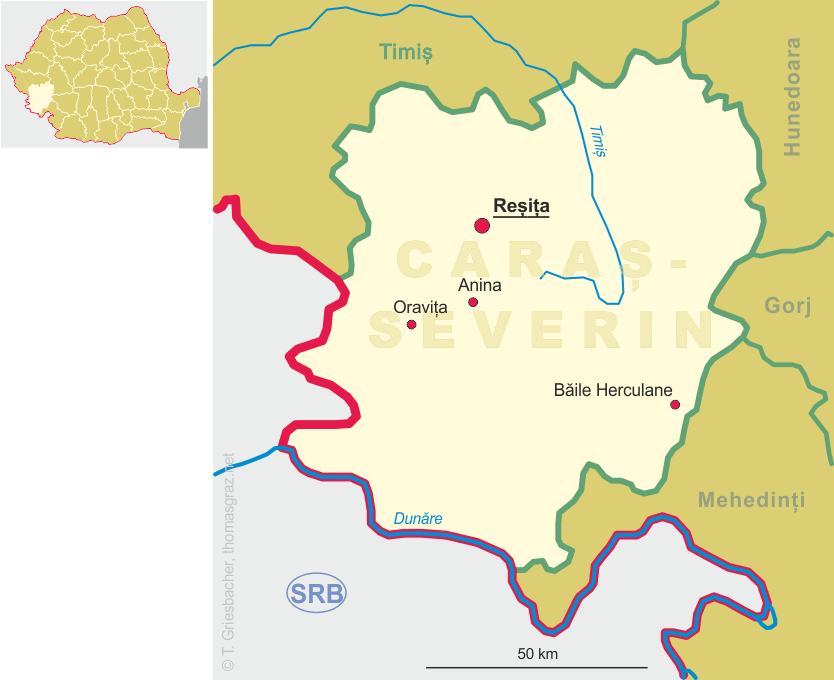 Băile Herculane
• lv: Beile Herkulane
• lt: Beile Herkulanė
• de: Herkulesbad
• hu: Herkulesfürdő
• cs: Herkulovy Lázně
• sr: Баиле-Херкулане
• uk: Беїле-Херкулане
• ru: Бэиле-Еркулане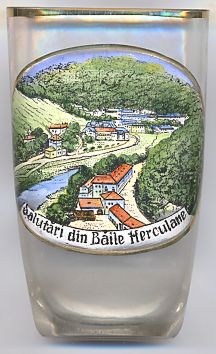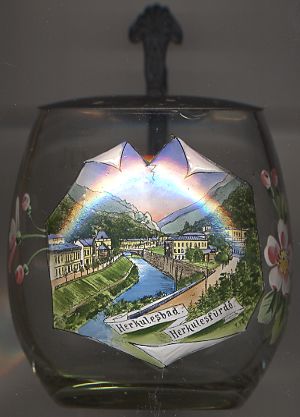 Băile Herculane is situated at an elevation of 160 m in the valley of the Cerna river between the Mehedinți Mountains to the east and the Cerna Mountains to the west, in Caraș-Severin county of the Banat region of southwestern Romania, about 60 km southeast of the county's capital, Reșița.
The spa town of Băile Herculane has an ancient history. The numerous archaeological discoveries show that the area has been inhabited since the Paleolithic era. The Peștera Hoților ('Cave of the Thieves') contains multiple levels, including one from the Mousterian period, one from the Mesolithic period, and several from the later Neolithic periods. Legend has it that a weary Hercules stopped in the valley to bathe and rest. During the 165 years of Roman domination of Dacia, the Aqua Herculis spa was known all over the empire. Unearthed stone carvings show that visiting Roman aristocrats turned the town into a Roman leisure center. Six statues of Hercules from the time have been discovered. A bronze replica of one of them, molded in 1874, stands as a landmark in the town center.
In modern times, the spa has been visited for its natural healing properties: hot springs with sulfur, chlorine, sodium, calcium, magnesium and other minerals, as well as negatively ionized air. Before World War II, it remained a popular destination with Western Europeans, who lent the town a refined elegance. During Communist rule, mass tourism facilities were built, such as the tall concrete hotels which dominate the skyline.
[Text adapted from en.wikipedia.org/wiki/Băile_Herculane]

---