| | |
| --- | --- |
| POLSKA | POLAND |
| województwo: Zachodniopomorskie | voivodship: West Pomerania |
| powiat: Świdwin | county: Świdwin |
map →
Połczyn-Zdrój
• de: Bad Polzin
• lv: Polčinzdroja
• ru, uk: Полцин-Здруй
• sr: Полчин-Здрој
• be: Полчын-Здруй
Połczyn-Zdrój is situated at an elevation of 105 m in the northern slopes of the Pomeranian ridge ('Pomeranian Switzerland') in the centre of the voivodship West Pomerania. The municipality of Połczyn-Zdrój has a population of about 16,200 and consists of the city of Połczyn-Zdrój with about 6,700 inhabitants and the rural community which consists of the villages Bolkowo (Bolkow), Bronowo (Brunow), Brusno (Brutzen), Buślary (Buslar), Czarnkowie (Alt Liepenfier), Gaworkowo (Gauerkow), Kołacz (Kollatz), Lipno (Neu Lipenfier), Łęgi (Langen), Łośnica (Lasbeck), Nowe Resko, Ogartowo (Jagertow), Ogrodno (Kavelsberg), Ostre Bardo (Wusterbarth), Popielewo (Poplow), Przyrowo, Redło (Redel), Sucha-Borkowo (Zuchen and Birkenfelde), Szeligowo (Seeligsfelde, Eichenfelde), Toporzyk (Bramstädt), Wardyń Górny (Hohenwardin), Zajączkowo (Alt Sanskow) and Zajączkówko (Neu Sanskow).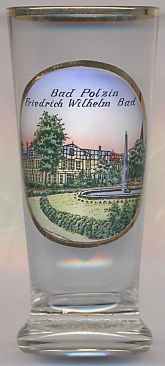 In the 13th century Benedictine monks who came from Stolpe in Vorpommern (Hither Pomerania) founded a German settlement at this place near a Slavic village that already existed at that time. A castle was built in 1290, presumably by the Teutonic Order. In 1335 the village was chartered as a town according to Lübeck Law. During the conflicts between Pomerania, Poland and the Teutonic Order, Polish knights occupied the castle in 1466, but were fought back by Erich II, Duke of Pomerania-Wolgast, Hinterpommern (West Pomerania) and Stettin (Szczecin).
The mineral spring that was discovered in 1688 provided the basis for Polzin's popularity as a spa place. The spa began to attract tourists especially from the 18th century onwards. The most distinguished guest was probably the Prussian Queen Luise, consort of King Friedrich Wilhelm III. The bath houses Mariabad and Victoriabad opened in 1854, a hospital of the Order of St. John of Jerusalem opened in the following year. Since 1857 mud baths were also part of the therapeutic applications. The popularity increased further when the railroads to Schivelbein (now Świdwin), Bärwalde (Barwice) and Falkenburg (Złocieniec) were opened in 1897 and 1903, respectively. In 1938/39 Bad Polzin had about 6,900 inhabitants and was visited by about 127,000 guests. The spa had to close when World War II broke out in 1939. Between 1938 and 1945 Polzin castle was used as a home for the Nazi Lebensborn program. In 1945 Polzin became part of Poland and was renamed Połczyn-Zdrój. The spa was reopened shortly after the war.
The picture on glass no. 2217 [left] shows the bath house

Friedrich-Wilhelm-Bad.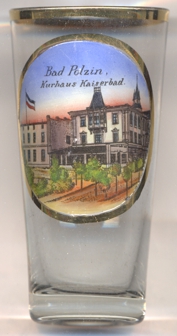 The picture on glass no. 4127 [near left] shows the bath house

Kaiser-Bad.

---