| | |
| --- | --- |
| ITALIA | ITALY |
| autonome Region: Trentino-Südtirol / regione autonoma: Trentino-Alto Adige | Trentino – South Tyrol |
| autonome Provinz: Bozen – Südtirol / provincia autonoma: Bolzano – Alto Adige | |
map →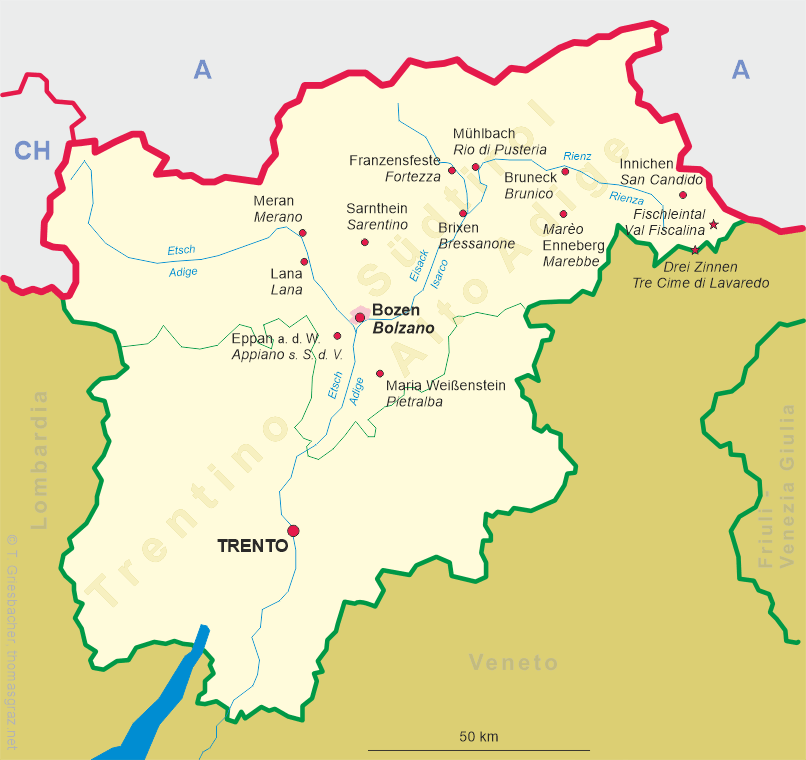 Meran / Merano
• de: Meran
• lt: Meranas
• it: Merano
• el: Μεράνο
• ru: Меран
• bg, ru, sr, uk: Мерано

Meran (Italian: Merano) is situated at an elevation of 324 m on the river Etsch (Adige) in the autonomous province Bozen-Südtirol (Bolzano-Alto Adige) of northern Italy. The area was inhabited since at least about 2000 BC. When the Romans occupied the Etsch valley they built a military post, which became known as castrum Maiense. Mais (Maia) near Meran was the birthplace of Arbeo (Aribo), bishop of Freising (b.ca.723, d.783), who became famous for his biographies of St. Korbinian and St. Emmeram. Arbeo also composed the very first known document in (Old High) German language ("Keronisches Glossar", also called "Abrogans", a Latin-German dictionary written in about 770 AD). During the 13th century Meran (Tirol castle near Meran) became the capital of the county of Tirol and soon was chartered as a town. After the abdication of the last Countess of Tirol, Margarethe Maultasch, the territory came in possession of the Habsburgs in 1363. During the 15th century the town lost its importance: the residence of Tyrol was moved to Innsbruck in 1420, the Tyrolean mint was transferred to Hall in Tirol in 1477, and Meran itself finally lost its official status as the capital of the county in 1480. The position as the regional centre of South Tyrol also passed on to Bozen (Bolzano) during that period. Due to the exceptionally mild climate of the region Meran became one of the most fashionable spa towns of Europe of the 19th century and it became a favourite destination of the European nobility. The most famous guest of Meran was certainly Empress Elisabeth of Austria who visited the town several times. Although World War I caused a decline of the spa, the discovery of radon in the springs on the Vigiljoch made Meran popular again. Because the hotels of the town were used as military hospitals during World War II Meran was protected from the destructions that were the sake of so many other historic places. Since then, Meran has regained its position as the most important tourist destination in South Tyrol.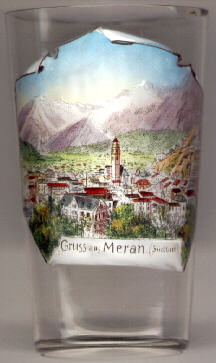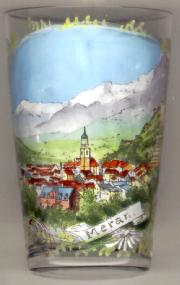 The

parish church Sankt Nikolaus [centre] with its characteristic tower (83 m high) is the landmark of Meran. It was the first church of South Tyrol that was erected in pure Gothic style. It was first mentioned in 1220 and was remodelled and enlarged in the 14th and 15th century.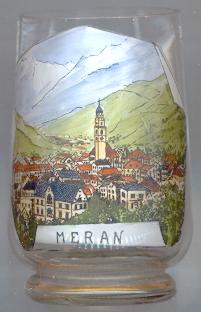 The

Municipal Theatre (Stadttheater) [left, no. 1037: right] was built in 1900 by the architect Martin Dülfer in Eclectic style. The construction of the theatre was the basis of the later fame of Dülfer who became one of the foremost German architects of the Art Nouveau period. The theatre received the name "Giacomo Puccini" in 1937 (because the composer had stayed in Meran in 1923). The building was thoroughly renovated in the 1970s.

---