| | |
| --- | --- |
| SCHWEIZ / SUISSE / SVIZZERA / SVIZRA | SWITZERLAND |
| Luzern / Lucerne / Lucerna / Lucerna | |
map →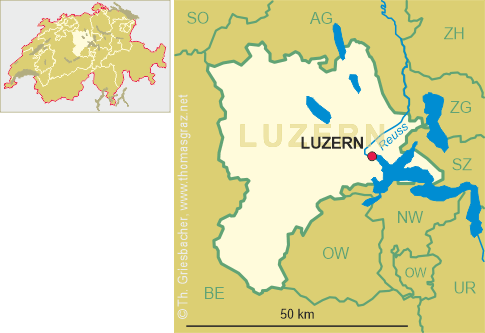 Luzern
it: Lucerna
rm: Lucerna
fr: Lucerne
de: Luzern
• lt: Liucerna • cs, hr: Lucern • es, it, lv, pl, pt, ro: Lucerna • sq: Lucerni • en: Lucerne • eu: Luzerna
• el: Λουκέρνη
• mk, sr: Луцерн • bg, ru, uk: Люцерн • be: Люцэрн
Luzern is situated at an elevation of 436 m at the northwestern end of Lake Lucerne, on both sides of the river Reuss. Luzern is the capital city of the canton of the same name. The city has a population of about 57,500 (2004).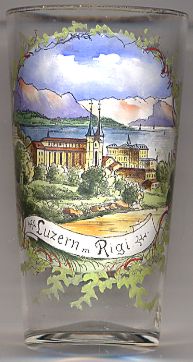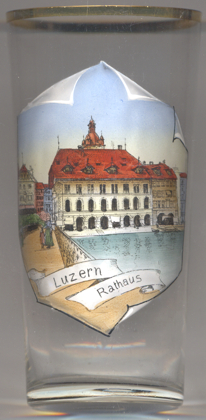 The city grew from a small fishing village of ancient origins on the shores of Lake Lucerne with the founding of the Benedictine monastery of St. Leodegar in around 700 AD. The Latin name Luciaria appears in historical records from around 840 AD. The opening of the St. Gotthard Pass route in the 13th century made Lucerne into an important trading town for the transshipment of goods over the Alps. Acquired by the Habsburgs in 1291 against the will of its inhabitants, it joined the Swiss Confederation in 1332. During the Counter-Reformation, it was a stronghold of Roman Catholicism, and a base for the Jesuits in their efforts against Calvinism. Lucerne was the center of a peasants' revolt in 1653 against the aristocratic regime in the towns, the members of whom had grown rich from mercenary service in foreign armies. Lucerne was briefly capital of the Napoleonic Helvetian Republic from 1798 until 1803. In 1841, Lucerne seceded from the Swiss Confederation, leading to the Sonderbund War of 1847. In 1848, Lucerne was re-admitted into the Swiss Confederation. The construction of the Gotthard railway and the establishment of ship transport on Lake Lucerne have made Lucerne into one of Switzerland's main tourist destinations.
The

Hofkirche [left, no. 2532], the church of the monastery St. Leodegar and St. Mauritius, is the main church of Lucerne. A Benedictine monastery was founded here in the 8th century. In 1633, a fire destroyed the church, but it was rebuilt in 1645. It is considered to be the most important Renaissance church in Switzerland.
The

Town Hall [right, no. 3456] was built in 1602–1604 in late Renaissance style.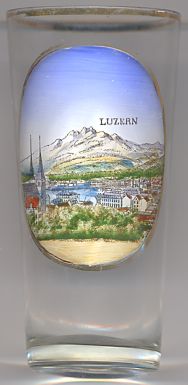 The

Rigi (1,797 m; 5,895 ft) [top left, no. 2532: background] is also known as the "Queen of the Mountains". The mountain is easily accessible by public transportation. It offers many winter and summer excursions such as skiing or sledding. Hiking there is also a favorite. It can be reached from Goldau and Vitznau by the Rigi-Bahnen, a rack railway, and from Weggis by cable car. The Rigi has been further made famous through paintings by Joseph Mallord William Turner, including "The Blue Rigi, Lake of Lucerne, Sunrise".
The

Pilatus (2,128 m; 6,982 ft) [near left, no. 2256: background] near Lucerne is one of the popular attractions of the area. Jurisdiction over the mountain is divided up between the cantons of Obwalden, Nidwalden, and Lucerne. The peak is in Obwalden right on the border with Nidwalden. The top can be reached with Pilatus Railway, the world's steepest cog railway from Alpnachstad, operating from May to November (depending on snow conditions), and the whole year with the aerial tramway from Kriens. During the summer, a popular route for tourists involves taking a boat from Lucerne across Lake Lucerne to Alpnachstad, going up on the cog railway, coming down on the aerial tramway, and taking a bus back to Lucerne. Pilatus was named after a local legend that Pontius Pilate was buried there. (Other places that, according to local legends, were supposed to be Pilates burial place are Fortingall in Perthshire, Scotland, Tarraco near Tarragona, Spain, and Forchheim and its suburb Hausen in Germany.)
[https://de.wikipedia.org/wiki/Luzern, http://en.wikipedia.org/wiki/Lucerne; http://en.wikipedia.org/wiki/Rigi; http://en.wikipedia.org/wiki/Pilatus_(mountain)]

---