| | |
| --- | --- |
| DEUTSCHLAND | GERMANY |
| Bundesland: Freistaat Sachsen | Saxony |
| Landkreis: Vogtlandkreis | |
map →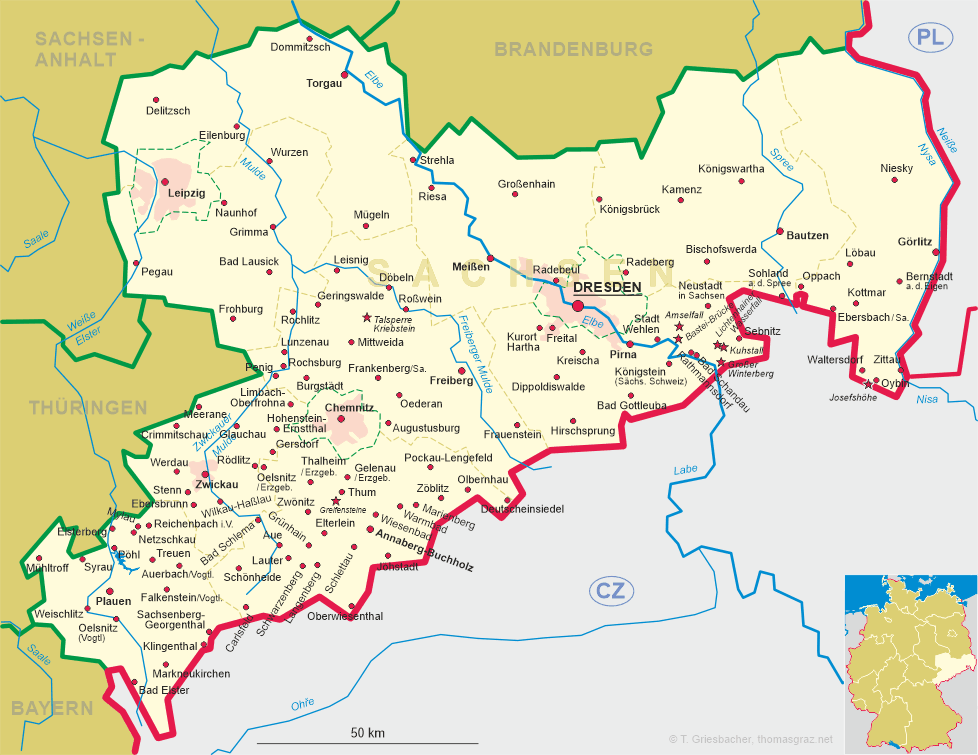 Netzschkau
• sr: Нецшкау
• mk, ru: Нечкау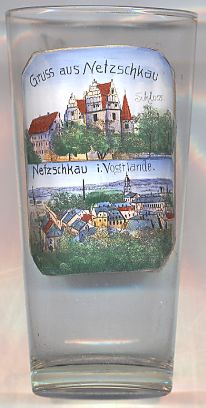 Netzschkau is situated at an elevation of 378 m at the river Göltzsch in the Vogtland region of western Saxony, close to the border to Thuringia. Netzschkau has a population of about 4,400 (2006).
The settlement was founded in the 9th or 10th century by slavic settlers. In 1491 Netzschkau was chartered as a town. In the late 17th century Netzschkau became known as a town of weavers. With completion of the Göltzschtal bridge (see below), Netzschkau was connected to the railroad from Nuremberg to Leipzig, which caused a sudden boost for the industrial development of the town. The neighbouring villages of Lambzig, Foschenroda and Brockau were incorporated into the municipality in 2000. Netzschkau is administered jointly with the municipality of Limbach (Vogtland).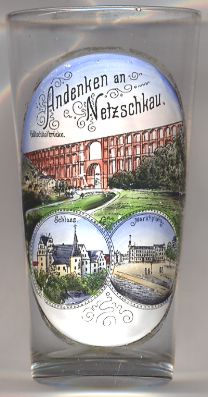 Netzschkau castle [far left, no. 2410: top; near left, no. 3206: bottom right; and right, no. 2691: bottom left] is a masterpiece of late Gothic architecture. The castle was built around 1490 as one of the first residential castles in Saxony. After 1626 it was partly remodeled and the chapel and the north and east wings were added. The additions were torn down in 1953.
The protestant

castle church [far left, no. 2410: bottom picture: background centre right] was built in 1838–1840 in classicist style. A renovation took place in 1955/1956.
The bottom right picture on glass no. 2691 [right] shows the

market square, today named 'Am Markt'.
The

Bismarck Tower [near left, no. 3206: bottom left picture] was built in 1900 on the Kuhberg, the highest elevation (511 m) in the Vogtland region. The massive stone tower has a total height of 21 metres. Towards the late 1960s the tower had fallen into severe disrepair so that it had to be closed for the public. After a thorough renovation in 1973/74 it could be reopened for visitors.
Several glasses of this collection show other Bismarck monuments.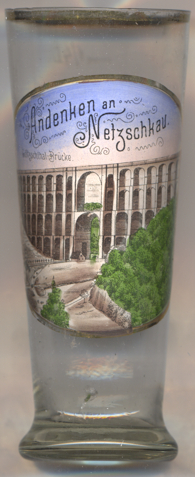 The famous

railway bridge across the Göltzsch valley [near left, no. 3901, and above left, no. 3206 and right, no. 2691: top pictures] between Netzschkau and Mylau was built between 1846 and 1851. At the time of its completion it was the world's highest viaduct (height 78 m, maximum span width 30.9 m, length 574 m) and until today is the largest brick bridge of the world (about 26 million bricks), followed by the nearby Elster Viaduct (Elstertalbrücke) at Jocketa (municipality of Pöhl; 68 m high, length 279 m, maximum span 31 m).
[http://www.bismarcktuerme.de/ebene4/sachs/netzsch.html]

The Göltzsch valley bridge is also depicted on glass no. 4406 [right], a souvenir from nearby Treuen.

---