| | |
| --- | --- |
| UNITED STATES OF AMERICA | |
| MASSACHUSETTS | |
| Essex County | |
map →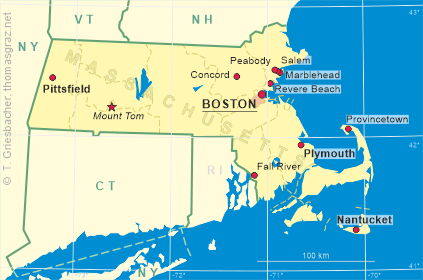 Peabody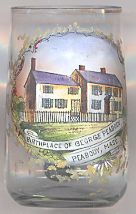 Peabody is a city in Essex County, Massachusetts. It is situated at an elevation of 5 m on the Danvers River in Boston's North Shore suburban area. As of the 2000 census, the population was 48,129.
First known as the Northfields, "the Farms", and Brooksby, the area was settled about 1626 within Salem, which had itself been founded in 1626 and incorporated in 1629. In 1752, the area was set off from Salem and incorporated as part of Danvers, and then usually referred to as "the South Parish", which was associated with the church located in the center (now Peabody Square). In 1855, the community broke away from Danvers to become the town of South Danvers, incorporated that May 18. The name was changed on April 30, 1868 to Peabody after George Peabody, a noted philanthropist. It would be incorporated as a city in 1916.
The picture on glass no. 2449 [left] shows the

birthplace of George Peabody. Peabody (February 18, 1795 – November 4, 1869) was an entrepreneur and philanthropist. His birthplace at 205 Washington Street in Peabody is now the George Peabody House Museum, a museum dedicated to preserving his life and legacy. George Peabody is known to have provided benefactions of more than $8 million, most of them in his own lifetime. Among these are: 1852 The Peabody Institute (now the Peabody Institute Library), Peabody, MA; 1856 The Peabody Institute, Danvers, Mass (now the Peabody Institute Library of Danvers); 1857 The Peabody Institute, Baltimore; 1862 The Peabody Donation Fund, London; 1866 The Peabody Museum of Archaeology and Ethnology, Harvard University; 1866 The Peabody Museum of Natural History, Yale University, New Haven, CT; 1867 The Peabody Essex Museum, Salem, MA; 1867 The Peabody Institute, Georgetown, DC (today the Peabody Room, Georgetown Branch, Washington DC Public Library); 1867 Peabody Education Fund.

[http://en.wikipedia.org/wiki/Peabody,_Massachusetts; http://en.wikipedia.org/wiki/George_Peabody]

---