| | |
| --- | --- |
| UNITED STATES OF AMERICA | |
| NEW JERSEY | |
| Cape May County | |
map →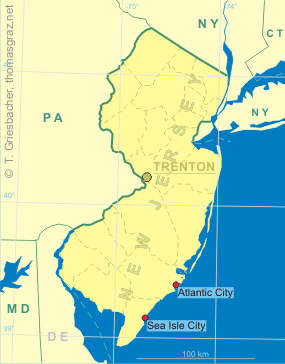 Sea Isle City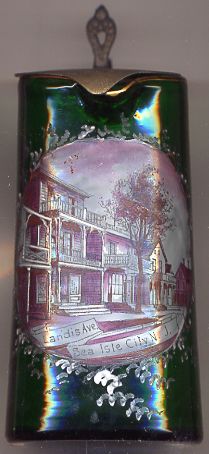 Sea Isle City is a city in Cape May County, New Jersey. It is part of the Ocean City Metropolitan Statistical Area. As of the United States 2000 Census, the city population was 2,835. Sea Isle City is located on Ludlam Island, which also contains part of Dennis Township.
Sea Isle City was originally incorporated as a borough on May 22, 1882, from portions of Dennis Township, based on the results of a referendum held six days earlier. The borough was reincorporated on March 31, 1890. On April 20, 1907, the area was reincorporated as the City of Sea Isle City, based on the results of a referendum held on April 30, 1907.

Landis Avenue [left], Sea Isle City's main street, is named for the city's founder, Charles Kline Landis, who was also the founder of Vineland, New Jersey. Landis was born in Philadelphia and was educated as a lawyer. His first foray as a developer began with the development of Hammonton, New Jersey in 1857. Landis and his partner purchased 5,000 acres (20 km²) of land along the Camden and Atlantic Railroad, connecting Camden and Atlantic City. By 1860, Hammonton had over 2,000 inhabitants, and was a successful agricultural community. After this experience, Landis began dreaming of a utopian city. He purchased 20,000 acres (81 km²) of land in 1861, near Millville, New Jersey and along an existing railroad line with service to Philadelphia. The first houses were built in 1862, and train service was established to Philadelphia and New York City, with the population reaching 5,500 by 1865. In 1880, Landis purchased Ludlam Island, a barrier island on the Atlantic Ocean shorefront, with the intention of building a city like Venice, Italy, to include canals, fountains and other public art. While the Venice aspect of the project was less than successful, his Sea Isle City Improvement Company brought residents to the area, which separated from Dennis Township, and was incorporated as Sea Isle City in 1882. Charles Landis died on June 12, 1900 at the age of 67 and is buried in Siloam Cemetery in Vineland, a cemetery that was established on land donated by him in 1864.
[Texts adapted from http://en.wikipedia.org/wiki/Sea_Isle_City, http://en.wikipedia.org/wiki/Charles_K._Landis]

---