| | |
| --- | --- |
| ČESKÁ REPUBLIKA | CZECH REPUBLIC |
| Zlínský kraj | Zlín region |
| Okres: Vsetín | |
map →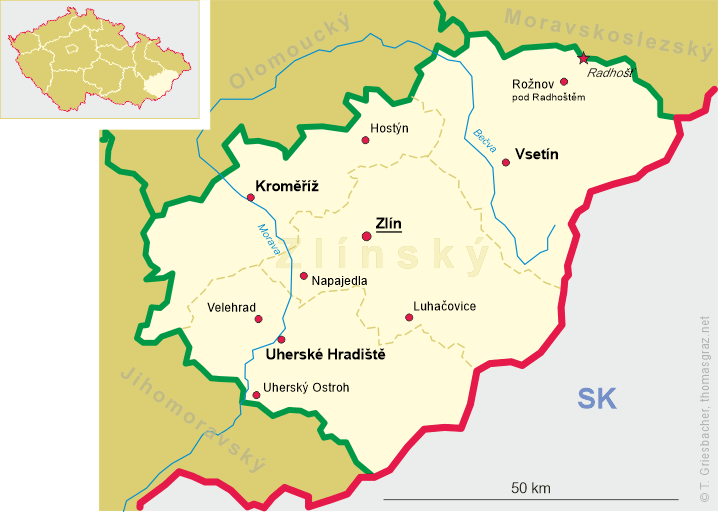 Rožnov pod Radhoštěm
• de: Rosenau, Rožnau
• lt: Rožnov pod Radhoštemas
• ru: Рожнов-под-Радгоштем
• sr: Рожнов под Радхоштјем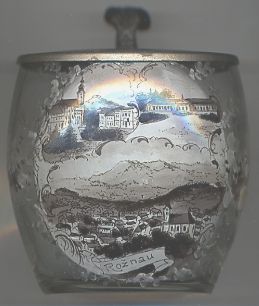 Rožnov pod Radhoštěm is situated at an elevation of 378 m at the river Rožnovská Bečva (Untere Betschwa) west of the Radhošť mountain. The municipality has a population of about 17,300 (2005).
The earliest written mention is found in a document of 1267. In the mid-19th century Rožnov became a popular climatic spa town. On of the attractions of the town is the Wallachian open-air museum (Valašské muzeum v přírodě) which was established in 1925.
The

parish church of All Saints [top left] was built in 1748–1752 in place of an older church from the 16th century.
The

spa house [top right] was built in 1874 and originally was an open collonade where the patients would drink heated sheep's whey. Later, the construction was roofed over and today it serves as a restaurant and a cultural facility.
Rosenau, the former German name of Rožnov pod Radhoštěm, also was the former German name of Râșnov, Romania. Another glass in this collection is from Rosenau, Austria.
[Text adapted in part from http://valasske-kralovstvi.cz/media/files/matroznovaj.pdf]

---