| | |
| --- | --- |
| UNITED STATES OF AMERICA | |
| TEXAS | |
| Coryell County | |
map →
Gatesville
Gatesville is the county seat of Coryell County in Central Texas. The population was about 15,400 as of the 2010 census.
Gatesville was founded in 1854, shortly after the creation of Coryell County. The town was named after Fort Gates, which was located on the north bank of Leon river, about five miles east of Gatesville. Fort Gates had been established in 1849 as Camp Gates. The installation was named for Brevet Major Collinson Reed Gates of New York, a noted officer in the Battle of Palo Alto and the Battle of Resaca de la Palma. The fort was established to protect settlers on the Texas frontier. The fort was abandoned in March 1852. Coryell County is named for James Coryell, an early landholder and Texas Ranger.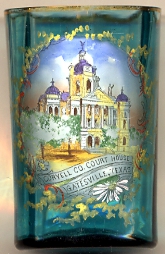 Of the eight Texas Department of Criminal Justice general correctional facilities for women, which include five prisons and three state jails, five of the units, including four prisons and one state jail, are in the City of Gatesville. The Christina Crain Unit prison (formerly Gatesville Unit), the Hilltop Unit prison, the Dr. Lane Murray Unit prison, and the Linda Woodman Unit state jail are co-located amongst one another. In addition the Mountain View Unit, a prison with the State of Texas female death row, is in Gatesville. One male prison, the Alfred D. Hughes Unit, also is in Gatesville.
The

Coryell County Courthouse [left] was built in 1897–1898 by the architect Wesley Clarke Dodson in Victorian style with Romanesque revival features. When he was commissioned, the only stipulations imposed on the architect were that the building exhibit a cupola with a Seth Thomas clock (original still working), the cupola clad in copper, a bell of not less than 800 pounds, and a metal roof. Dual statues of Liberty and Justice are located above the north and south entrances. A distinct feature of those statues is that the goddesses of Justice are without blindfolds, depicting Justice as "never sightless, but all-seeing, all-knowing". The front (south) and the back (north) entrances of the courthouse are differentiated by their column count. Six columns face Leon Street, once considered the primary street of Gatesville, while four columns face Main Street which is now the primary avenue. The courthouse was added to the National Register of Historic Places in 1977.
[http://en.wikipedia.org/wiki/Gatesville,_Texas, https://de.wikipedia.org/wiki/Gatesville_(Texas), http://en.wikipedia.org/wiki/Fort_Gates, http://www.coryellcounty.org/common_files/cocourthousebrocur.pdf]

---