| | |
| --- | --- |
| FRANCE | FRANCE |
| région: Normandie | Normandy |
| département: 50, Manche | |
map →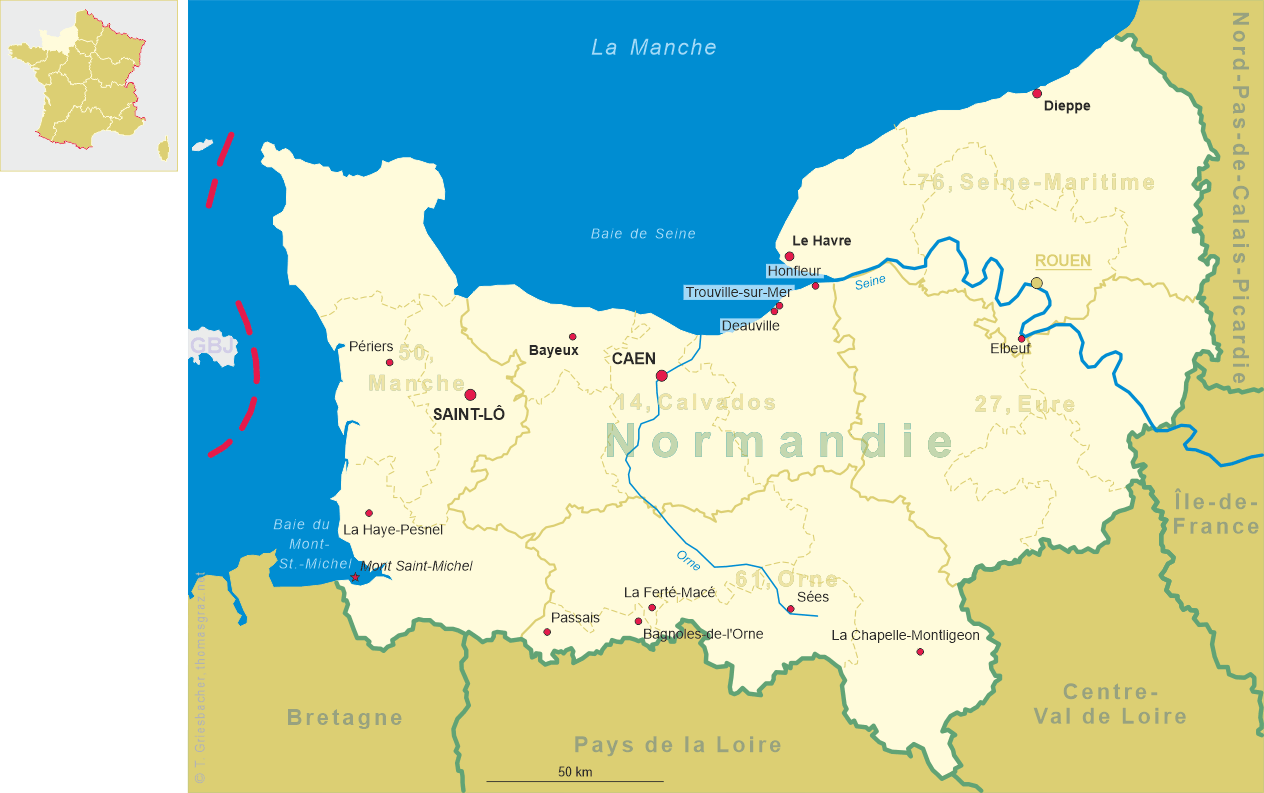 Saint-Lô
• lv: Senlo
• lt: Sent Lo
• el: Σαιν Λο
• mk, sr: Сен Ло
• be, bg, ru, uk: Сен-Ло
• be: Сэн-Лё
Saint-Lô is the capital (préfecture) of the département Manche and seat of the administration (chef-lieu) of the arrondissement Saint-Lô in the régin Normandie of northern France. The municipality of Saint-Lô has a population of about 18,700 (2010).
Originally called Briovère (meaning "Bridge on the Vire River" in Gaulish), the town is built on and around ramparts. Originally it was a Gaul fortified settlement. The name Saint-Lô, known since the 8th century, originates from Saint Laud, bishop of Coutances in 525–565, who had a residence here. Saint-Lô was the third largest town in the Duchy of Normandy after Rouen and Caen, and became part of France in 1202. In 1275 it received from King Philippe III of France the right to coin, which it maintained until 1693. During the Hundred Years War (1337–1453) it was sacked by the English, and in 1347 it was struck by the Plague. In 1378 it returned to France, but was again under England from 1418 to 1449. Saint-Lô suffered notably during the Wars of Religion: in 1562 it was captured by the Huguenots and became a Protestant stronghold; in 1574 it was besieged and partly destroyed by royal troops. After the revocation of the edict of Nantes (1685), most of its craftsmen abandoned Saint-Lô. In 1795 it became capital (préfécture) of the département Manche. In 1858 it was reached by the Paris–Cherbourg railway. The German army occupied the town on 17 June 1940. Being a strategic crossroads, Saint-Lô was almost totally destroyed (95% according to common estimates) during the Battle of Normandy in World War II, earning the title of "The Capital of the Ruins" from Samuel Beckett; it was even questioned whether to rebuild it or to leave the ruins intact as a testimony to the bombing. As partial reparations for the destruction of the city, Americans established the hospital memorial, housing a fresco by Fernand Léger. It was at that time the largest hospital in Europe.
Among the only standing buildings after the 1944 bombings was the church

Notre-Dame de Saint-Lô [background centre], built in Flamboyant Gothic style from the 13th to the 15th centuries to replace the former castle's chapel; its roof and façade were destroyed, as well as one of its two towers and the top of the other one. The church was partially restored after the war: the façade was rebuilt as a plain green schist wall. It most notably features an outdoor pulpit that Victor Hugo protected from demolition planned for town renovation in 1863. The statue of Notre-Dame du Pilier is from 1467; having been destroyed and remade several times, it is now housed on a column in the apse chapel.
[http://en.wikipedia.org/wiki/Saint-Lô]

---