• ar, ca, eu: Hazparne
• sr: Аспаран • uk: Аспарран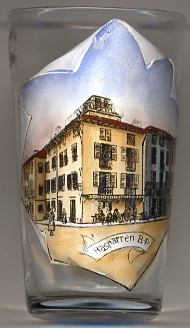 Hasparren (in Basque: Hazparne) is situated at an elevation of 99 m in the arrondissement Bayone, département Pyrénées-Atlantiques of southern France. It is part of the tradtitional Basque province of Labourd (Lapurdi). The municipality of Hasparren has a population of about 6,140 (2010).
The name Hasparren appears in the 13th century as Hasperenne (1247), Ahesparren (1255), and Hesparren, Haesparren or Ahezparenne (1288). It is of Basque origin, coming from the root ahetz or aitz (meaning 'rock' or 'height') and the superlative barren (meaning 'the most interior), although the popular ethymology explains it as 'the city of oaks'). A famous stone incscripion dating from the 11th century and discovered in 1660, now is built ito the wall of Hasparren's church. During the Middle Ages, Hasparren, protected by its two castles Zalduzahar (1125) and Zalduberri (1310), was one of the stops on the Ways of St. James to Santiago de Compostela.
Glass no. 2862 is labeled Hasparren B.-P., the abbreviation referring to Basses-Pyrénées, the name of the département, which in 1969 was renamed Pyrénées-Atlantiques.
[https://fr.wikipedia.org/wiki/Hasparren]

---