| | |
| --- | --- |
| SLOVENSKO | SLOVAKIA |
| Žilinský kraj | Žilina region |
| okres: Turèianske Teplice | |
map →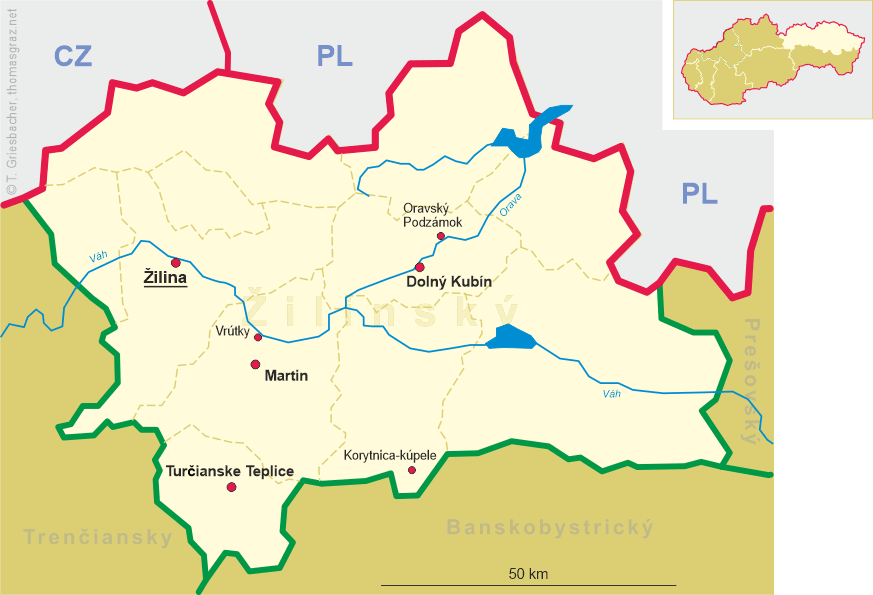 Turčianske Teplice
• alt: Štubňanské Teplice, Štubnianske Teplice
• de: Bad Stuben
• hu: Stubnyafürdő
• lvu: Turčanske Teplice
• sr: Турчјанске Тјеплице
• ru: Турчьянске Теплице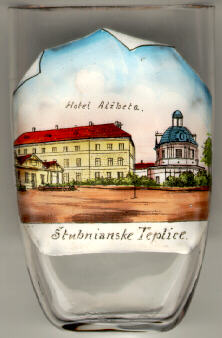 Turčianske Teplice is situated at an elevation of 520 m in the Turčianska kotlina valley not far from the city of Martin. Turčianske Teplice is one of the oldest spas in Slovakia as it was mentioned already in 1281 (toplucha, hot water). During the Austro-Hungarian monarchy, as part of the kingdom of Hungary, the Hungarian name of the town was Stubnyafürdő. Thereafter, the official name of the town until 1927 was Štubňanské Teplice, and until 1947 Štubnianske Teplice. Since then, the name is Turčianske Teplice.
The thermal springs with temperatures of 38–46°C are used for hydrotherapeutic procedures as well as for drinking cures. Turčianske Teplice is the only spa in Slovakia to treat diseases of the kidney and the urinary tract. Further treatments are offered for disorders of the locomotor system and rheumatic diseases.
The picture on glassno. 297 shows a view of

Hotel Alžbeta [and] and the

Blue Bath (Modrý Kúpeľ) (previously named Green mirror bath) [right]; the latter was built in 1728 in neoclassical style and is one of the popular landmarks of Turčianske Teplice.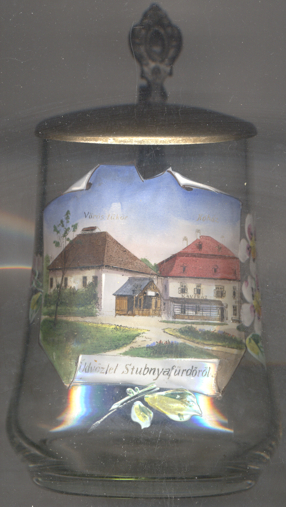 The buildings depicted on glass no. 3609 [near left] are labeled in Hungarian:

Vörös tükör (Red Mirror bath) [left], and

Kőház (Stone House) [right]. The latter on the façade also bears the inscription Kavéház (Café).

[http://www.slovakia.travel/entitaview.aspx?l=3&cat=01&llt=1&idp=3532; https://mandadb.hu/tetel/483537/Kavehaz__kepeslap_Stubnyafurdo_1911]

---