| | |
| --- | --- |
| UNITED STATES OF AMERICA | |
| CALIFORNIA | |
| Los Angeles County | |
map →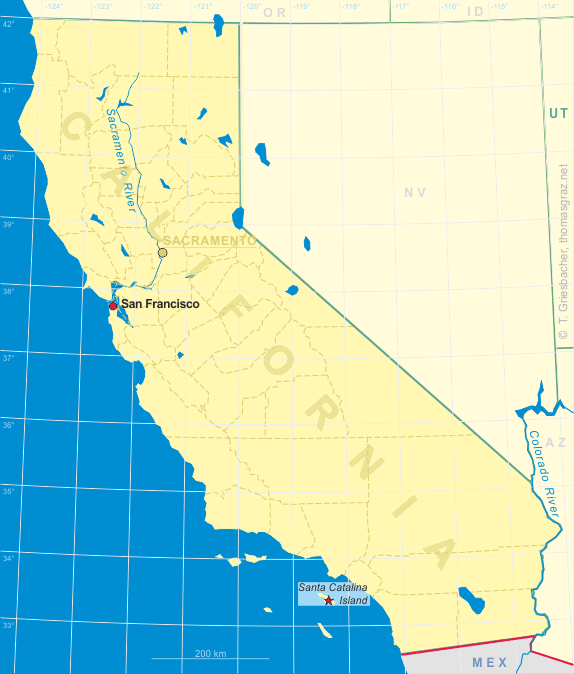 Santa Catalina Island
• es: Isla Santa Catalina
Sata Catalina Island, often called Catalina Island, or just Catalina, is a rocky island off the coast of the U.S. state of California in the Gulf of Santa Catalina. The island is 22 miles (35 km) long and 8 miles (13 km) across at its greatest width. The island is located about 22 miles (35 km) south-southwest of Los Angeles, California. The highest point on the island is Mt. Orizaba (2,097 feet, 639 m). Part of the Channel Islands of California archipelago, Santa Catalina lies within Los Angeles County.
Catalina was originally settled by Native Americans who called the island Pimugna or Pimu and referred to themselves as Pimugnans or Pimuvit. The first Europeans to arrive on Catalina claimed it for the Spanish Empire. Over the years, territorial claims to the island transferred to Mexico and then to the United States. During this time, the island was sporadically used for smuggling, otter hunting, and gold-digging, before successfully being developed into a tourist destination by chewing gum magnate William Wrigley, Jr. beginning in the 1920s. Since the 1970s, most of the island has been administered by the Catalina Island Conservancy.
The picture on glass no. 2991 [left] shows a view of the

Residence of William Wrigley Jr. overlooking Avalon Bay. Wrigley bought the island in 1919 and chose the setting for his residence on Mt. Ada (named after his wife, Ada) because it received first sunlight in the morning and the last rays at sunset. The building of the Wrigley's home, 350 feet above the town and harbor, was started in 1920 and completed in 1921. The couple enjoyed their home together through January 1932, when Mr. Wrigley died. Mrs. Wrigley continued to visit until 1947, when she suffered a stroke. From 1921 to 1932, the Wrigley's entertained a number of famous guests at their island home, including Presidents Warren G. Harding, Calvin Coolidge, and the Prince of Wales (who in 1936 became King Edward VIII but already abdicated in the same year). Following Mrs. Wrigley's death in 1958, the home was owned by the Santa Catalina Island Company and used as a tourist attraction. In the 1970's, the home was given to the University of Southern California to be used as a conference center. In 1985, the present innkeepers secured a long-term lease of the property and created the successful business known today as The Inn on Mt. Ada.
The picture on glass no. 2991 can be dated to before 1928, because it still shows Sugarloaf Point, closing Avalon Bay towards the west (visible in the centre background). Sugarloaf Point was razed in 1928 to make room for the construction of the new Casino. Sugarloaf Rock was further blasted away to enhance the Casino's ocean view.
[https://en.wikipedia.org/wiki/Santa_Catalina_Island,_California, http://www.innonmtada.com/, https://en.wikipedia.org/wiki/Catalina_Casino]

---