| | |
| --- | --- |
| SLOVENSKO | SLOVAKIA |
| Trnavský kraj | Trnava region |
| okres: Senica | |
map →
Šaštín
• de: Maria Schoßberg
• lv: Šaštīna
• hu: Sasvár
• ru, sr: Шаштин
• uk: Шаштін
• be: Шашцін
Šaštín is situated at an elevation of 252 m in the Senica district, Trnava region of western Slovakia and since 1960 is part of the municipality Šaštín-Stráže. The town lies in the Záhorie lowlands, around 18 km from Senica and 65 km from Bratislava. The Myjava River flows through the town, dividing the town's two parts. Šaštín-Stráže has a population of about 5,100 (2014).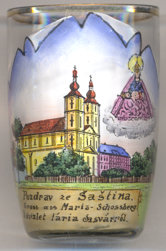 The first written mention of the place dates from 1218. In the Middle Ages this settlement was part of the Székely border defense of the Hungarian Kingdom. Therefore, the village has historical connections with the Székely ethnic group. Although the town's two parts, Šaštín (Hungarian: Sasv&aacute,r; German: Maria Schoßberg) and Stráže nad Myjavou (Hungarian: Str&aacute,zsa, since 1900 Morvaőr; German: Strasche) were for long two separate villages, their history is closely connected to each other. The villages merged in 1961 under name Šaštínske Str&aacute,že, changed in 1971 to the current name. Šaštín-Stráže obtained the status of a town in 2001.
The

basilica of Our Lady of the Seven Sorrows (Bazilika Sedembolestnej Panny Márie) [left] in Šaštín is one of the most important Marian shrines in Slovakia. The history of the place as a pilgrimage site goes back to 1564 when a statue of Our Lady of Sorrows was set up in a wooden chapel. In 1710 the archbishop of Esztergom declared the statue miraculous. In 1736 the Order of St. Paul the First Hermit began to build a new church and monastery in this place. The church was completed in 1764 and was dedicated in the presence of Archduchess Maria Theresia of Austria and her husband, Emperor Franz I. Following the dissolution of the Order of St. Paul in 1784 the church came under administration of the local parish. In 1864, on the occasion of the 300th anniversary of the Lady statue, the two church towers were raised to their present height. In 1924, the monastery became home of a community of Oblates of St. Francis de Sales. By a papal decree, the Lady of Sorrows of Šaštín was declared patroness of the Slovak people in 1927. During the Communist period, the monastery was closed but the tradition of pilgrimages continued. In 1964, the church obtained the status of a Basilica minor. The monks could return to the monastery in 1990.
(see also list of other basilicae minores depicted on glasses of this collection)

[https://de.wikipedia.org/wiki/Šaštín-Stráže, https://en.wikipedia.org/wiki/Šaštín-Stráže; https://de.wikipedia.org/wiki/Basilika_St._Maria_von_den_Sieben_Schmerzen_(Šaštín)]

---