| | |
| --- | --- |
| UNITED STATES OF AMERICA | |
| MISSOURI | |
| Jasper County, Newton County | |
map →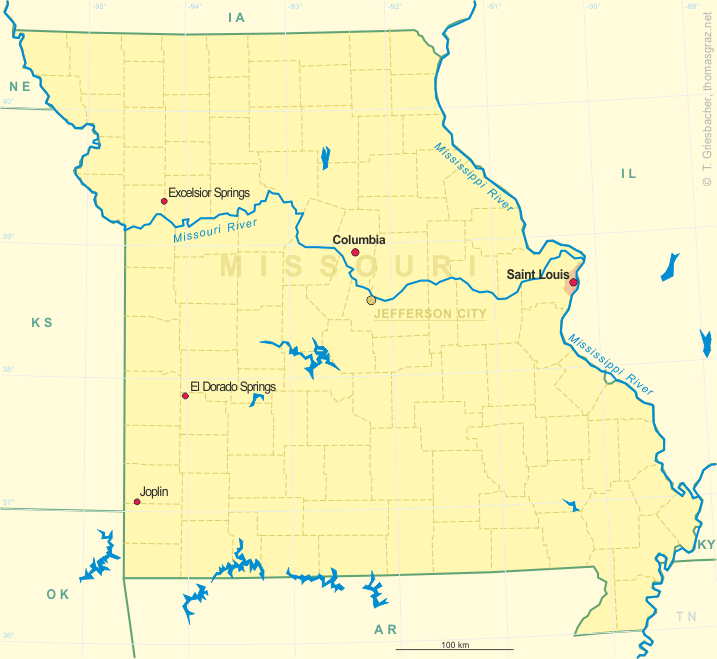 Joplin
• sr: Џоплин
Joplin is situated at an elevation of 306 m in southern Jasper County and northern Newton County in the southwest corner of Missouri. Joplin is the largest city in Jasper County, though it is not the county seat (the county seat is Carthage). As of the 2010 census, the city population was 50,150. Joplin is the main hub of the three-county Joplin–Miami, Oklahoma metropolitan area.
Lead was discovered in the Joplin Creek Valley before the Civil War, but only after the war did significant development take place. By 1871, numerous mining camps sprang up in the valley. Joplin City was founded on the east side of the valley; Murphysburg was founded on the opposite side. The cities eventually merged into Union City, but when the merger was found illegal, the cities split. Murphy suggested that a combined city be named Joplin. The cities merged again on March 23, 1873, this time permanently, as the City of Joplin. While Joplin was first settled for lead mining, zinc was the most important mineral resource. By the start of the twentieth century, the city was becoming a regional metropolis. As the center of the "Tri-state district", it soon became the lead- and zinc-mining capital of the world. As a result of extensive surface and deep mining, Joplin is dotted with open-pit mines and mine shafts. The main part of Joplin is nearly 75% undermined, with some mine shafts well over 100 ft (30 m) deep. After World War II, most of the mines were closed.
Glass no. 3228 [left] shows a view of the

lead and zinc mines.

[https://en.wikipedia.org/wiki/Joplin,_Missouri]

---