| | |
| --- | --- |
| FRANCE | FRANCE |
| région: Provence-Alpes-Côte d'Azur | |
| département: 83, Var | |
map →
Plan-d'Aups-Sainte-Baume
• ru, uk: План-д'Опс-Сент-Бом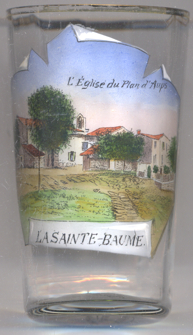 Plan-d'Aups-Sainte-Baume is situated at an elevation of 858 m to the north of the Sainte-Baume massif of the département Var in southern France. The municipality has a population of 2,022 (2014) and is part of the arrondissement Brignoles (canton Saint-Maximin-la-Sainte-Baume).
In ancient times Sainte-Baume was a real "desert", difficult to access and isolated from everything, which explains that Mary Magdalene and after her the first monks came to seek peace and union with God. The area was christianised in the 5th century, and Cassianites founded the church of Saint-Jaume. In the 9th century, the area, called Villa Almis, was in possession of the abbbey of Saint-Victor. By the 13th century, the name had evolved into Plan d'Aups or, sometimes, Aups lès la Sainte Baume. Starting already in the 5th century, the grotto of Mary Magdalene in the middle of the Sainte-Baume massif, became a popular pilgrimage site. In the 16th century, the marbles of Plan d'Aups were so appreciated that they were used bfor the decoration of the palace at Versailles. The town was classified a tourist resort in 1932. Until 1932, the official name of the community was Plan-d'Aups, and on 29 March of that year was changed to its present form, Plan-d'Aups-Sainte-Baume.
The

église Saint-Jaume [left] was likely founded in/after the 5th century. The present Romanesque church dates from the 11th/12th century.
Glass no. 8293 is labeled on the bottom: Garnier Marseille / Importé d'Autriche.
[https://fr.wikipedia.org/wiki/Plan-d'Aups-Sainte-Baume; http://ecomusee-saintebaume.com/programme.html; https://www.google.at/url?sa=t&rct=j&q=&esrc=s&source=web&cd=18&ved=0ahUKEwjHhM_tyJrXAhVCnRoKHT4KCc84ChAWCFwwBw&url=http%3A%2F%2Fwww.compostelle-paca-corse.info%2Fsites%2Fcompostelle-paca-corse.info%2Ffiles%2Fpage%2F80%2Fpatrimoine83.pdf&usg=AOvVaw18gi1QfeCZDMtlSIITu_UE]

---