map →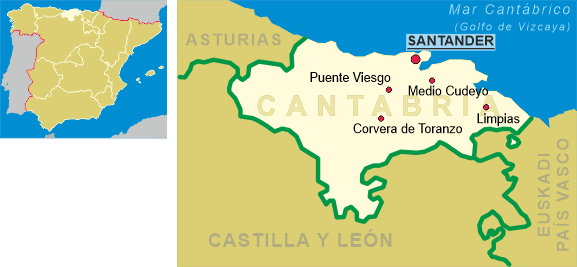 Corvera de Toranzo
• ru, uk: Корвера-де-Торансо
Corvera de Toranzo is situated at an elevation of 168 m in the Pas-Miera region (also called Valles Pasiegos) in the part of the Pas basin that is known as the Toranzo Valley. The municipality consists of the localities Alceda, Borleña, Castillo Pedroso, Corvera, Esponzués, Ontaneda, Prases, Quintana de Toranzo, San Vicente de Toranzo (capital), Sel de Tojo and Villegar; the municipality has a population of about 2,100 (2017).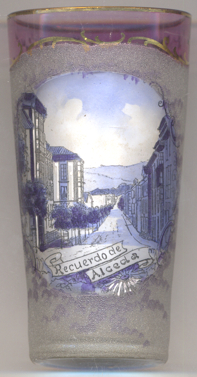 Alceda

Alceda [left, no. 3408] is a town in the municipality of Corvera de Toranzo. It is situated in the Toranzo Valley, on the left bank of the Pas River on the eastern slopes of Mount Pombo at about 200 m above sea level, but reaches up to Mount Cildá (1,065 m) where there is a Roman road that communicated with Reinosa. Alceda currently has a population of about 300 (2016).

Alceda was declared a Site of Cultural Interest in the category of Historic-Artistic Site in 1985. This is due to the fact that it has a series of houses with a coat of arms dating from the 16th, 17th and 18th centuries located next to the Camino Real, which, through the port of El Escudo, linked the Cantabrian coast with the Castilian plateau. There is an abundant spring of sulphurous waters in the park of Alceda to which since 1842 it received many people to cure cutaneous diseases.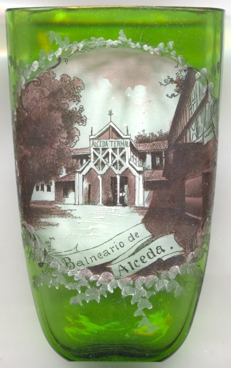 ... [Text in preparation]

[https://es.wikipedia.org/wiki/Corvera_de_Toranzo; https://es.wikipedia.org/wiki/Alceda]

---