| | |
| --- | --- |
| ROMÂNIA | ROMANIA |
| județ Arad | Arad County |
map →
Radna
• de: Maria Radna
• hu: Máriaradna
• ru: Радна
Radna is probably Romania's most important catholic pilgrimage site. The place on the right bank of of the river Mureș was first mentioned in 1440 and today is part of the town of Lipova (Lippa) on the other side of the river. The first Franciscan monks had been called into Lipova by King Karl Robert of Anjou already in 1325/27. At least since 1626 Franciscans also lived in Radna.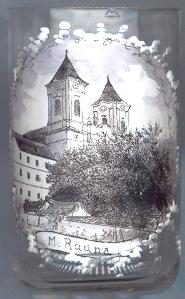 The

pilgrimage church Maria Radna dates back to the 18th century. Radna had become such a popular pilgrimage site during the early 18th century that the old church became too small. Therefore, it was decided in 1750 to build a new church. In 1756 the construction work started. The new church was consecrated in 1767 and the image of Our Lady was brought here from the old church. The church was finished in 1782.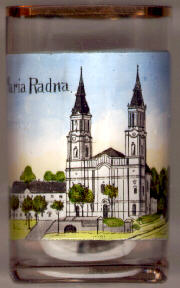 In 1911 the two towers were heightened and now have a height of 66 m [near right, no. 4007, and far right, no. 347]. A fire in 1923 damaged the church and the monastery. Between 1948 and 1952 many monasteries in Romania were closed by the authorities and the members of these orders were all sent to Radna; the Franciscans were only allowed to inhabit a tiny part of the monastery. In 1952 the monastery was transformed into a home for elderly and handicapped people. Today several Franciscans live in the monastery again. The church was renovated in 1971. In 1992 the church received the status of a Basilica minor by Pope John Paul II.
Centre of the pilgrimage church is the image of Our Lady, a 17th century print which was brought to Radna in 1668. In 1769/71 the image was given a frame made of 30 kg of massive silver. In 1820 two golden crowns for the Virgin and the infant Jesus were affixed to the image.
(see also list of other basilicae minores depicted on glasses of this collection)

---