| | |
| --- | --- |
| ČESKÁ REPUBLIKA | CZECH REPUBLIC |
| Královéhradecký kraj | Nový Bydžov region |
| Okres: Nový Bydžov | |
map →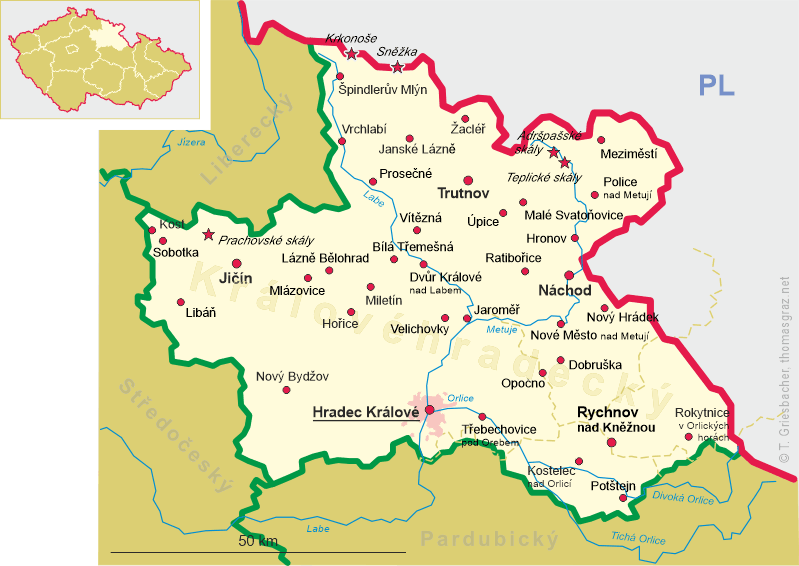 Nový Bydžov
• de: Neubidschow, Neubydžow
• lt: Novy Bidžovas
• sr: Нови Биџов
Nový Bydžov is situated at an elevation of 234 m on the river Cidlina in the west of the Hradec Králové district, about 26 km west of the district townn. The municipality has a populaton of about 7,000 (2019).
The town was founded in 1305 because the original town of Bydschow (Starý Bydžov), which was located on a hill 3 km to the northwest, suffered a lack of water. After its foundation, the town privilages of the old town were transferred to the new settlement. The town had the status of a Royal town, but later was sold by the Crown to the lords of Wartenberg (Vartenberk), who in 1515 sold it to the lords of Pernstein (Pernštejn). The Bohemian Crown obtained the domains again in 1569. Since 1868 the town was the administrative seat of the district Neubydžow. In 1987, the historic town centre was put under monumental protection.
The

parish church of St. Lawrence [left, no. 3889: background] was built in 1305–1311 and originally was dedicated to the Mother of God. In 1682 and 1772 the church was remodeled in Baroque style. In 1870 the building was partly remodeled in Gothic revival style. The church is listed as a cultural monument since 1964.
The

Marian Column [left, no. 3889: foreground] is located in Masaryk Square in the centre of Nový Bydžov. In 1697, the foundations and the statue of the Virgin Mary were created. The sandstone colume was added in 1706. A group of scultures was added in 1716 after a plague epidemic had hit the town in the year before. The original stone balustrade around the column was removed in 1891. The statues on the base of the column represent St. Roch, St. Sebastian, St. Francis, and (since 1941) St. Joseph with Jesus (replacing the earlier statues of St. Rosalie and later St. Ludmila).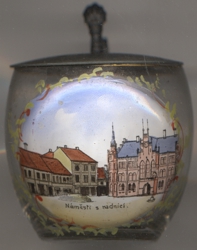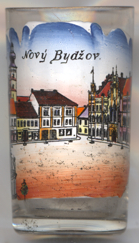 The

town hall [left, no. 4250 and right, no. 3889: right] was built in 1862–1865 in Gothic revival style.
[https://de.wikipedia.org/wiki/Nov%C3%BD_Byd%C5%BEov; https://cs.wikipedia.org/wiki/Kostel_svat%C3%A9ho_Vav%C5%99ince_(Nov%C3%BD_Byd%C5%BEov), https://cs.wikipedia.org/wiki/Seznam_kulturn%C3%ADch_pam%C3%A1tek_v_Nov%C3%A9m_Byd%C5%BEov%C4%9B; https://cs.wikipedia.org/wiki/Mari%C3%A1nsk%C3%BD_sloup_(Nov%C3%BD_Byd%C5%BEov)]

---