| | |
| --- | --- |
| DEUTSCHLAND | GERMANY |
| Bundesland: Schleswig-Holstein | |
| Kreis: Ostholstein | |
map →
Timmendorfer Strand
• mk, sr: Тимендорфер Штранд
• ru: Тиммендорфер-Штранд
• uk: Тіммендорфер-Штранд
Timmendorfer Strand is situated at the Baltic Sea coast about 15 km north of Lübeck. The municipality was created in 1945 out of Groß Timmerdorf, Klein Timmendorf, Hemmelsdorf and Niendorf, all of which until then were part of the municipality of Ratekau. Timmendorfer Strand has a population of about 15,100 (2019).
Niendorf
Niendorf is situated about 3.5 km east of the municipality's centre, at the Baltic Sea coast. Nyendorpe was first mentioned in a written document in 1385. At the time, it was a possession of the cathedral chapter of Lübeck. As a consequence, fishing rights were only granted to citizens of Lübeck. Farmers of Niendorf obtained these privileges only in 1817. When Lübeck in 1806 was occupied by France, also Niendorf came under French rule, which lasted until 1813. The establishment of a restaurant and accommodation for bathers in 1854 marked the beginning of the seaside resort of Niendorf. Beach life had already established itself in Travemünde (today part of Lübeck), on Timmendorfer Strand it took another seven years before the first house was built. In 1909 a 220-metre-long pier was built directly in front of the Johanssen Hotel. A the beginning of the 20th century, Niendorf was one of the most important sea-side resorts in the Lübeck Bay. In 1913, Niendorf was connected to the railroad system. The municipality of Timmendorfer Strand was created in 1945 out of the localities Groß Timmerdorf, Klein Timmendorf, Hemmelsdorf and Niendorf, which until then had been part of Ratekau.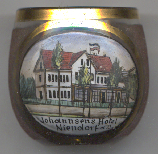 Johannsens Hotel was founded in 1854.

[https://de.wikipedia.org/wiki/Timmendorfer_Strand; https://de.wikipedia.org/wiki/Niendorf_(Timmendorfer_Strand); http/gemeindearchiv.org/images/pdf/eitleiste_15062020.pdf&usg=AOvVaw37xKI6mYXFynuK2pksnP26]

---